NOTES FROM ABOVE GROUND
By Honey van Blossom
(Honey is a Belgian Marxist former strip-tease artiste)
This is an undated photograph of members of the Cahuenga village camping on the
Cahuenga Pass. Anza Society website.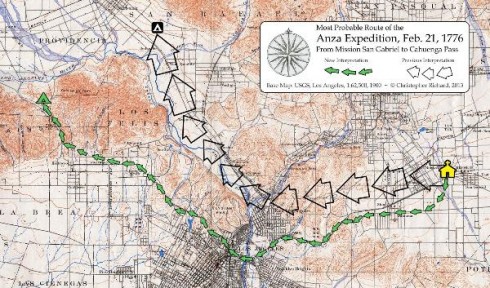 Old Way Stack Cropped is the map that accompanies Professor Quinn's essay on the
Anza route. I got it from the Anza Society website.
It's well known that Walt Disney first thought up Disneyland when he was sitting on a bench in front of the merry-go-round in Griffith Park (4730 Crystal Springs Drive). The Department of Parks and Recreation donated the bench to Main Street, U.S.A., so you have to go to Anaheim to see it. It's currently on display in the Opera House lobby. James Dean's bronze bust at the Griffith Park Observatory atop Mt. Hollywood (on the sidewalk to the west of the main lawn) commemorates the making of key scenes in Rebel Without A Cause. The 1960s Mission Impossible television series used the merry-go-round, the observatory, the tunnel – I think that's the same tunnel as in Who Framed Roger Rabbit that is the entrance to Toontown – and the Bronson Caves. Griffith Park also sometimes played other planets in the television Star Trek series. Griffith Park ends on the western side a little to the east of Universal Studios. Before that, Griffith Park played a role as a civil war battlefield and many roles as a Far West landscape for cowboy films, both silent and talkie.
Long before movies and cartoons, the Griffith Park part of the Santa Monica Mountains was inhabited. The mouth of Fern Dell Canyon (Los Feliz Boulevard, Red Oak Drive, Fern Dell Place) was a Tongva village site. The Tongva village of Kah-Ween-ga (Cahuenga) was on the banks of the Los Angeles River, probably on the San Fernando Valley side of the pass. Indians lived in the Los Angeles area, including the San Gabriel Valley and the San Fernando Valley, for at least 8,000 years pre-contact with Europeans. Read more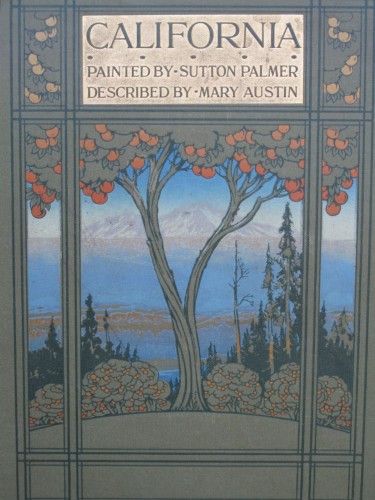 NOTES FROM ABOVE GROUND
By Honey van Blossom
(Honey is a Belgian Marxist former strip-tease artiste)
Honey and Lands of the Sun
In 1913, Mary Austin lived for a time in London. According to Lawrence Powell, in California Classics: The Creative Literature of the Golden State (First published in 1971), Mary Austin was asked to write a series of essays to accompany British painter Sutton Palmer's watercolors of California. Adam and Charles Black published California, Land of the Sun in 1915. The book did not appear in the United States until 1927, published without the paintings as the Lands of the Sun.
Powell wrote:
"It is a lyrical hymn to California, its contours and configurations of seacoast, valleys and mountains. This book holds a special place in my remembered reading because of the circumstances in which I discovered it. The place was Paris on a rainy afternoon in May, mild and yet too wet for walking. I sheltered under the umbrella of a bookstall on the…Quay of the Goldsmiths – and there I chanced upon a worn copy of The Lands of the Sun"
I was more fortunate than Lawrence Powell. On a summer day in 1985, I walked into the Santa Cruz Public Library in downtown Santa Cruz, An oil painting of Josephine McCracken in old age hung on the wall. McCracken had not only been a prolific writer and Ina Coolbrith's close friend, she had helped save the last of the Old Growth redwoods growing in the Santa Cruz Mountains. From a page on the library's website I retrieved thirty years later: Read more
NOTES FROM ABOVE GROUND
By Honey van Blossom
(Honey is a Belgian Marxist former strip-tease artiste)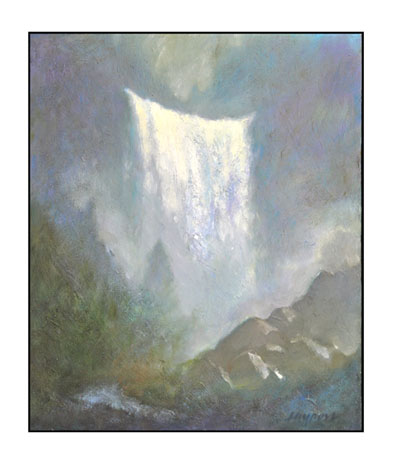 Vernal Falls Copyright 2015 Bob Layport
A few weeks ago, my friend Susannah Wilson drove her eight-year old granddaughter and me up to Lake Almanor in Plumas County. Susannah and her brothers own a cabin on Lake Almanor. Their grandparents built the cabin, so she has been going to the lake on and off most of her life.
We drove up there from Grass Valley, stopping once to look at Yolo River as it streamed over giant stones, and stopping again in Quincy to go to the local museum.
Spanish Captain Luis Arguello named the river up there "Rio de las Plumas" in 1820. The Feather River is the main tributary of the Sacramento River. After the discovery of gold in 1848, towns sprang up in the area. The Beckwourth Trail, established by James Beckwourth in 1850, was the predecessor route to State Route 70 built in 1934. Ina Coolbrith's family entered California on the Beckwourth trail, led by James Beckwourth on the first trip he guided over the mountains. Although Susannah is an expert driver and knows the routes like the back of her hand – some of her ancestors homesteaded up there – I cannot imagine my driving that route much less imagine how people crossed that formidable terrain before paved roads. Read more
  NOTES FROM ABOVE GROUND
By Honey van Blossom
(Honey is a Belgian Marxist former strip-tease artiste)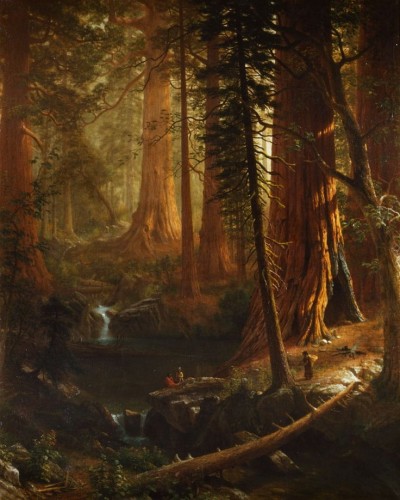 Giant Redwoods of California by Alfred Bierstadt,
courtesy Berkshire Museum
Edwin Bryant's What I Saw in California grabs you by the lapels and pulls you into the past. When Bryant crossed the country with a wagon train in 1846, San Francisco had 200 residents and 1500 lived in Los Angeles – then the capital of California. With no true roads to follow, no food eat except after a while beef when it could be found or sometimes milk, once in a while, frijoles and chili, tortured by flea infestations, Bryant journeyed through the a foreign country that was gorgeous, hostile and dangerous, inhabited by people whose names now are on road signs on our freeways.
Bryant (1805-1869) was a Kentucky newspaper editor, born in Pelham, Massachusetts. His father was frequently imprisoned for debt, and his uncle Bezabiel Bryant raised him in Bedford, New York, which is in Westchester County, an area north of the Bronx, until he was an adolescent. He studied medicine with another uncle, Dr. Peter Bryant. Dr. Bryant was the father of William Cullen Bryant, nine years older than Edwin. Read more
Many people who visit Los Angeles believe that the city began around the "Old Plaza," the plaza near Olvera Street. The newer plaza was "La plaza abaja," which is now called Pershing Square, and that plaza began in 1849.
A plaque across from the Old Plaza commemorates the founding of the city. It states: "On September 4, 1781, eleven families of pobladores (44 persons including children) arrived at this place from the Gulf of California to establish a pueblo which was to become the City of Los Angeles. This colonization ordered by King Carlos III was carried out under the direction of Governor Felipe de Neve."
Wikipedia states that the area around the plaza was the city's center under Spanish rule (1791 to 1821), and Mexican rule (1821-1847). The Spanish founded Los Angeles in 1781.
Wikipedia almost immediately in the same essay contradicts its early statement. "The original pueblo was built to the southeast of the current plaza along the Los Angeles River. In 1815, a flood washed away the original pueblo, and it was rebuilt farther from the river at the location of the current plaza." This portion of the Wikipedia essay cites the Department of Public Works for Los Angeles County. http://dpw.lacounty.gov/wmd/watershed/LA/History.cfm. Read more
NOTES FROM ABOVE GROUND
By Honey van Blossom
(Honey is a Belgian Marxist former strip-tease artiste)
"The miners came in forty-nine,
the whores in fifty-one;
And when they got together
They produced the native son."
- 19th century San Francisco song
Between the antipodean poles of promiscuity and celibacy is the rest of the world of desire.   Each of California's periods of occupation — the time when many native tribes lived in the state, the Spanish-Mexican exploratory, mission and pastoral eras, and then the flood of Americans and people from all over the world after the Gold Rush of 1848 had different and often conflicting attitudes toward sexuality. The American episode has grown from legal and cultural repression to greater acceptance of interracial marriage, same sex love and greater equality between men and women.
One significant exception to that evolution in sexuality is prostitution: non-existent among pre-contact native people, initiated during the mission period, exploding as a trade during the Gold Rush, it remained legal until about 1910. Prostitution is still a crime.
Antonia L. Castaneda, "Engendering the History of Alta California, 1769-1848: Gender, Sexuality and the Family," wrote: "As part of the natural world, sexuality, for many indigenous people, was related to the sacred and, as such, was central to their religious and cosmic order. Sexuality was celebrated by women and men in song, dance, and other ritual observances to awaken the earth's fertility and ensure that they were blessed with fecundity. Accepted practices extended to premarital sexual activity, polygamy, polyandry, homosexuality, transvestitism, same-sex marriage, and ritual sexual practices. Divorce was easily attainable, and, under particular conditions, abortion and infanticide were practiced." Read more
NOTES FROM ABOVE GROUND
By Honey van Blossom
(Honey is a Belgian Marxist former strip-tease artiste)
Yesterday a young East Indian woman rattled the metal screen that locks in front of my door.   She said she was there to talk about helping children break the cycle of poverty.   She held up a brochure with pictures of children on it. I said, No. I'm not listening to this. She said they had a website. I closed the door.
Tonight a young Asian woman rattled the screen. She was there to help children break the cycle of poverty. She held the brochure up.
I told her if you want to break the cycle of poverty, work for a living wage for their parents.   Charity is insulting. Helping children break the cycle of poverty is blaming the children.
Last year, I advised low-income working parents at the Pittsburg Courthouse library.   A full-time manager with an MBA at a big box store made $1500 a month.  He had custody of his two children. Rent in Pittsburg is $1500 a month. The other parents made $900 a month. They got food stamps.   Food stamps subsidized the retail stores so they could pay low wages. Section 8 housing vouchers subsidized landlords so they could find someone to pay $1500 a month in Pittsburg, Antioch and Bay Point, and to get a voucher – that's like winning the lottery. Often, the apartments they lived in had no heat, no air conditioning, and black mold. Read more
NOTES FROM ABOVE GROUND
By Honey van Blossom
(Honey is a Belgian Marxist former strip-tease artiste)
The Tenderloin is a neighborhood in downtown San Francisco between the Union Square shopping district to the northeast and the Civic Center office district to the southwest. It encompasses about 50 square blocks. It overlaps the theater district. By the 1920s, the neighborhood was famous for speakeasies, billiard halls, boxing gyms – background for the fiction of Dashiell Hammett, who lived at 891 Post Street. Both the movie and the book The Maltese Falcon were set in the Tenderloin.
Squalid conditions, homelessness, crime, illegal drug trade, prostitution, dive bars and liquor stores give the neighborhood a seedy reputation.   Violent crimes and thefts from parked vehicles are common.
The densest cluster of human dung in San Francisco is in the notoriously filthy North of Market-Tenderloin Community Benefit District. BART escalators on Market close from time to time to remove human excrement. The Mission District, Chinatown and western Haight-Ashbury host significant shit deposits. You have to watch your step as well South of Market between Fifth and Seventh Streets. Read more
NOTES FROM ABOVE GROUND
By Honey van Blossom
(Honey is a Belgian Marxist former strip-tease artiste)
California's radio, film and television comedies grew out of vaudeville, which largely grew out of earlier European traditions and paralleled the jester traditions in Native American, Middle-Eastern, Asian and African oral literature. Vaudeville, like baseball, was a vehicle of assimilation to American life, and then that amalgamated new American vision spread to the rest of the world.
Within the vaudevillian traditions has always been a sub-category of humor: the coyote jester. The coyote marches to his own drummer. He is difficult. He takes no shit and construes shit broadly.
The art of jesters and fools appeared in hieroglyphics in Egypt's 5th Dynasty about 2500 BC and surfaced in Tarot cards. Roaming gypsies introduced tarot cards to Europe at the time of the Renaissance, and appeared throughout medieval history. The Harlequin on stage was an acrobatic trickster wearing a black domino mask and carrying a bat or noisy slapstick with which he frequently spanked his victims. That was the origin of the term "slapstick."
The fool in Tarot cards symbolized a chance to live in the present moment. The fool represents the spirit of adventure and infinite possibility. Clowns and jesters also played an important role in the religions and lives of Asian societies. Clowns in ancient Greece were bald headed and padded to appear larger than normal. They performed as secondary figures in farces and mimes parodying the actions of more serious characters and at times threw nuts at the spectators. The Roman mime clown wore a pointed hat and a patchwork colorful robe. Read more
NOTES FROM ABOVE GROUND
By Honey van Blossom
(Honey is a Belgian Marxist former strip-tease artiste)
In July of 1888, one ten-year old girl and one eight-year old girl rode their horses over prairie and steppe grasslands that flowed under their horses' hooves. The horses' manes flew out wildly. The girls' hair loosened from pins and billowed like clouds – one black, one brown – around the children's heads and then streamed like flags of independence behind them.   A rider less than twenty percent of the horse's weight can encourage her horse to go twenty miles so perhaps each went twenty miles. At dusk, each child and her horse stopped to rest. Each girl fell asleep near her horse – one in Minnesota, one west of Warsaw — and returned to her home more slowly the next day.
In a photograph taken on her return to her home, Blanche Stanford wore a torn soiled white dress and leather boots and loosely held a little leather whip with a wooden handle in one hand, a whip she was to give to me when she was an old woman.   She held her horse's reins in her other hand. Her hair hung in uneven scraps. Flat Minnesota land extends behind her forever, land I was only to see through the glass of a stereopticon when I was three.
I imagine that on the day of Justyna's ride she wore a long skirt with an apron embroidered by her mother Luisa, a tight fitting vest with ribbons sewn down the front, a white blouse and boots. Read more