By Honey van Blossom
(Honey is a Belgian Marxist former strip-tease artiste.)
Anything by or involving Clint Eastwood with the exceptions of The Bridges of Madison County (1995) and Space Cowboys (2000) strikes me as odd and unpleasant.  His acting in Bridges was odd and fine because he and Meryl Streep transcended a very bad book to make a good movie about love and duty.  Space Cowboys was all right because Tommy Lee Jones is in it, and I've been in love with Tommy Lee Jones since the Eyes of Laura Mars (1978).
To this day, I loathe his roles in the Sergio Leone spaghetti westerns, which made him famous after Eastwood initially bombed in Hollywood.  If I even hear the refrain from the musical score for any of the Man with No Name trilogy, I leave.  Every Which Way But Loose (1978) is entirely horrible except for his pet orangutan Clyde.
I didn't even like Eastwood's Gran Torino (2008), in spite of the fact it was about an old racist's spiritual redemption because I had the unsettling feeling that Clint Eastwood had been an old racist himself until he married Dina Ruiz and they got into ersatz environmentalism in Carmel. Read more
December 1, 2011 · Posted in
Commentary
·
Comments Off

on The Trotsky Project
By LIONEL ROLFE
Back when I was in high school 50 years ago, I was called a Stalinist by my Trotskyite friend, Les Evans. Les had been a Republican because that's what his salesman father had been up until I talked Les into a more leftist position. Les' father was the man Arthur Miller must have had in mind when he wrote "Death of a Salesman." Anyway, Les made the transition to being an acolyte of Leon Trotsky, Lenin's main accomplice during the Russian Revolution. Les then went on to become an officer in the Socialist Workers Party, an editor in the party's publishing arm and the author of a scholarly book about China in the 1970s, among others. Read more
December 1, 2011 · Posted in
Miscellany
·
Comments Off

on Photographer Susan McRae Finds An Interesting Comment On The Beach
December 1, 2011 · Posted in
Commentary
·
Comments Off

on Anticapitalism, the Hyperstate, and the Current Crisis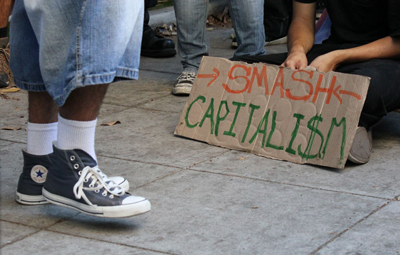 By Leslie Evans
The Dragons of Expectation: Reality and Delusion in the Course of History, Robert Conquest. New York: W. W. Norton & Company, 2005, 256 pp.
"The Return of an Illusion," John Gray. The New Republic, June 23, 2011.
The global economic crisis that began in 2008 has revived many salvationist dogmas that we should have thought were well past their shelf life. Most notably in the United States this has been Christian theocracy, but also, to some extent at least, the Marxist notion that the problems of inequality and declining living standards can best be solved by scrapping the whole existing system and abolishing private property tout court. Where the former has secured a commanding influence among Tea Party activists, the latter has been seeking, with a good deal less success, to persuade the Occupy movement campers. Read more
THIRSTY PARADISE
By Phyl M. Noir
EDITOR: This chapter is written as a script because, well, it just seemed like a great movie. 
INT. COUNTRY HOUSE IN THE NETHERLANDS: DAY
A picture window in the living room reveals a descending garden, and the garden contains the bare branches of mature trees, bare rose bushes and perennial plants.  There is snow on the ground.   Only sky is seen above the trees.  The sky is gray with clouds.
The interior's design is Bauhaus but some of the furniture and the oil paintings were created in earlier centuries.    There is a large painting in a carved gold frame of a blond woman wearing eighteenth century clothing, a large cupboard elaborately carved with vines, birds and mice, tables with feet shaped like lions' claws, and a Balinese trunk made of dark wood. Read more