ROBERT F. KENNEDY'S ASSASSINATION: THE MORNING AFTER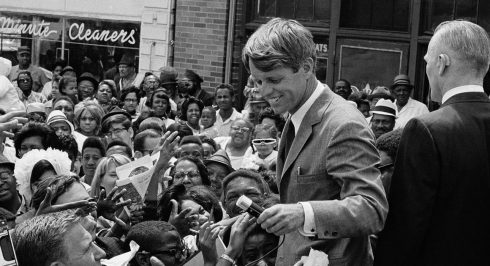 By Bob Vickrey
For many of us of a certain age, the year 1968 was a year like no other.
The Vietnam War had quickly escalated after the January "Tet Offensive" by the North Vietnamese army, and at one point that year, more than 500 American soldiers were losing their lives each week in a war that had already been deemed by many Pentagon officials as "unwinnable."
Back home, college students were staging protests against the war on campuses all across the country. Civil unrest in our cities had often turned confrontational and violent.
Civil Rights demonstrations were being met with police resistance, as they resorted to fire hoses and batons in their attempt to quell protesters.
Our country was still healing from the assassination nearly five years earlier of President John F. Kennedy when we learned of the assassination on April 4th of Martin Luther King, Jr. in Memphis. The essential fabric of American society seemed to be unraveling at the seams right before our very eyes.
I was attending Baylor University at the time, and like many of my young, idealistic classmates, had begun to pin our hopes on Senator Robert F. Kennedy during the Presidential primary campaign. His objection to the war in Southeast Asia and his promise to end the conflict offered many of us the hope we desperately needed during one of the darkest periods in our nation's history.
That fateful day in June 1968, when we discovered that Senator Kennedy had been assassinated at the Ambassador Hotel in Los Angeles, left most of us in shock and despair. The event represented yet another heartrending day in our young lives.
While reading the story of the previous night's assassination in our local daily newspaper, I noticed an accompanying account written by my former journalism classmate Tommy West, from his army barracks in Ft. Huachuca in Arizona. He was widely known by his professors and peers as one of the most talented journalists to come along in many years.
Now, fifty years later, I still get chills reading this young man's words as he employed his uncanny wisdom and perspective. Keep in mind that West was only 23 years old when he wrote this story for the Waco News-Tribune.
IT HAS HAPPENED SO MANY TIMES, AMERICA FINDS IT EASY TO BELIEVE
By Tommy West
News-Tribune Staff Writer
HUACHUCA, AZ (Wednesday)—  We awoke here this morning to learn that last night, less than 600 miles away, Don Drysdale had pitched his sixth shutout in a row and   Senator Robert F. Kennedy had been shot twice in the head.
Because even Dodger fans owe their first loyalty to the country that made their sport great, there was little to smile about this morning in the chilly darkness of the barracks.
There was once a time, not so very long ago, when the news that a major political figure of this country had been shot would have come as a resounding shock.
There was a time when America would have had to sit down in the fury of the moment and struggle to pull herself together.
It was that way five years ago, on that autumn afternoon in downtown Dallas.
"No," everyone said. "Things like that do not happen in this country. I do not believe it."
Then came Sunday morning outside the Dallas police station, and it seemed the world stopped for a moment and held its breath to wait fearfully for what would come next.
Calm eventually returned, and America groped for and found her reason. And the world turned once again.
If we learned anything from the assassination of President John F. Kennedy, it seemed we learned we were not immune to the terrible, swift act of deranged social misfits and that even at this time, we too, can settle great issues with a sudden murder.
And so we began to talk of cure because we had not talked soon enough of prevention. We talked about the Secret Service, and police protection, and about maniacs in our society. And most of all, we talked about the quick and easy gun.
While we talked, cities burned. Would-be assassination plots were uncovered and young men committed unexplainable mass murders from beauty shops and university towers. We read about it all in the newspapers, and we shook our heads grimly.
Then swiftly and without warning, another assassin killed Dr. Martin Luther King Jr.  Even as the nation quivered at the news, the talking began anew.
Now it has happened again. The airwaves crackled with the news this morning, and all over the nation giant newspaper presses rumbled about their gruesome business.
But somewhere along the way the shock has almost disappeared. In its void is an almost nauseating bewilderment, born of frustration and kindled by helplessness.
Your friend shakes you gently awake. "Bobby Kennedy has been shot," he says.
There is no disbelief, because if he had said instead that Washington was on fire and nuclear bombers were winging toward America, you know you probably would have believed it just as easily.
It is almost as if you went to sleep, and when you awoke, the quiet, unquestioned confidence you once had in the American scheme of things has gone.
What is there to do?
Talk? But everything has been said. Campaign for gun laws and a society more sensitive to street corner peddlers of salvation? That too has been done.
So you rise, slowly, put on your clothes, slip into your slot in the great society, the society of a country that seems somehow strangely different from the one you used to think about in the third grade.
And when darkness comes, you almost catch yourself wondering who will be next. Because with faith rapidly falling, you must resign yourself to the cold fact that apparently the lunatics and the guns in this country outnumber the great men.
Tommy West was a prominent Texas newspaper reporter and columnist who died in 1998 at the age of 55. West graduated from Baylor University in 1967 with a bachelor's degree in journalism. He was born in nearby Bosqueville and began his career at 16 as a copy boy for the Waco News- Tribune.
During his career, he wrote for newspapers in Philadelphia, Ft. Worth, Beaumont, Corpus Christi, Cincinnati, Houston, Stephenville, and San Antonio.
West worked as a reporter, columnist and editor for the San Antonio Express-News from 1980 to 1996. He penned popular columns for the Express-News such as "Trails West" and "South Texas Spirit." He was known affectionately by his colleagues as "The Colonel."
Comments