Toonerville At The End Of The Civilized World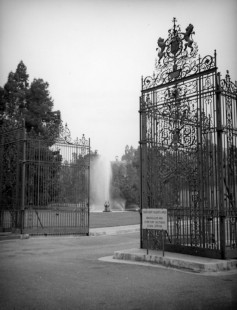 The photo is by L.A. Times photographer Herman Schultheis taken around 1940.
Courtesy Los Angeles Times
By Phyl M. Noir
Jade Yee was exhilarated and powerful. She flew over the house roofs in Toonerville. The red Tooner Ville electric train traveled beneath her through pine forests towards the San Gabriel Mountains. It went over Fletcher Drive and onto Bliss.
She flew over the Forest Lawn wall and watched a military funeral. She heard the guns salute and understood at last how it was that people died: you shot them. She saw oleanders bright with raspberry flowers bending in sunlight. Read more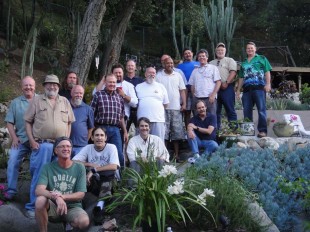 I'm the stout fellow with the hat and beard on the left.
By LIONEL ROLFE
Some time ago I wrote an article in which I mentioned that my parents sent me away to a military school in Altadena when I was perhaps 13 years old and it was probably 1955. This fellow wrote me and asked me if I was talking about Mt. Lowe Military Academy. He introduced himself as Chris Andrada, president of the school's alumni association. Would I like to come a reunion? Read more
By Leslie Evans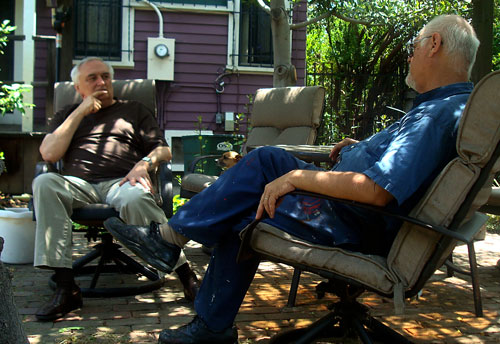 Eugen Uricaru (left) with Leslie Evans
We sit quietly under the arbor in my backyard. "You are familiar with the Cathars, of course," he says. "Yes," I reply, "French offshoots of the Bulgarian Bogomils, who renounced the material world and its god." This esoteric discussion had been prompted by my giving him a copy of my memoir, Outsider's Reverie , in which he had reached the chapter recounting my youthful fascination with the ancient Gnostics, otherworldly progenitors of the medieval sects of which we were speaking. He seems interested and intrigued, to have found an unexpected commonality. Read more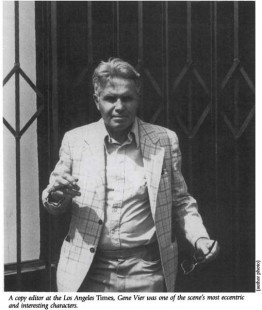 By LIONEL ROLFE
The death of Peter Falk at 83, the actor whose most famous role was a rumpled, eccentric Los Angeles police detective named "Lt. Columbo," brought to mind the real story of who Columbo was.
For many who hung out in newspaper circles back in the early'60s and'70s in Los Angeles, London and Paris, they knew a profoundly eccentric and brilliant rimrat named Gene Vier. Vier worked as a copy editor at the Los Angeles Times for years, the Los Angeles Daily News, as well as the New York Times Paris edition and the Guardian in Great Britain. Read more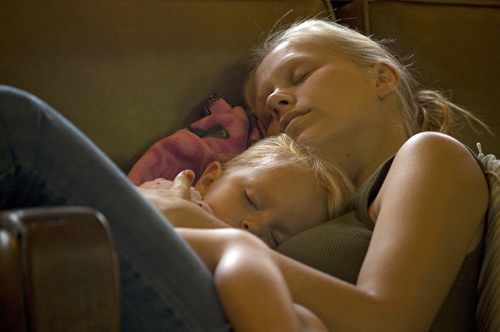 By Honey van Blossom
(Honey is a Belgian Marxist former strip-tease artiste.)
I didn't really visit the first Jewish cemetery in Los Angeles. Sue Borden (Sue and Ron Emler co-authored The Ghosts of Edendale) took me there today, and I looked at the State Historic Marker that memorializes what used to be there. The cemetery itself isn't there anymore. It hasn't been there since 1905. Read more