Fellowship Monrovia, an evangelical church that makes its pop-up home at Monrovia High, finds followers come in all ethnicities and persuasions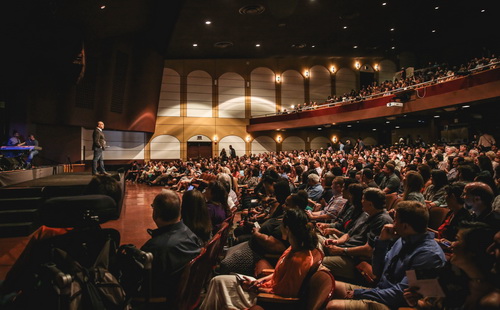 By Mary Reinholz
First published in the Pasadena Weekly, December 21, 2017
Christian evangelists often get a bad rap, depicted in the media as right wing extremists who preach fire and brimstone to a lily white choir.
But those images of TV preachers like the late Jerry Falwell and Pat Robertson get turned on their head by Albert Tate, the charismatic African-American lead pastor and founder of Fellowship Monrovia, FM, a multi-ethnic pop-up church in the auditorium of Monrovia High School that is being touted as one of the fastest growing congregations in the San Gabriel Valley.
Tate, who once led the Sweet Home Church of Christ Holiness USA in his native Pearl, Mississippi, strides across the stage of the Monrovia High performing arts auditorium 36 Sundays a year, sometimes garbed in a black cassock or red trousers with a brown jacket or jeans and a sock hat. Sometimes he skips, sits down, stands up and breaks into song. Sometimes he thunders exhortations against "me-ism" and promotes the need for sinners to be humble and submit to God, shouting, "Make your bones with the Lord!"
"We are telling the greatest story ever told," Tate said in a telephone conversation with Pasadena Weekly, describing his Gospel-centered church with an estimated following of 3,500 worshippers. "People want to be part of something that's inspiring, that helps couples stay together. We represent every tribe, every nation. I think they're attracted to the message more than the messenger."

Church and State
School officials insist that Fellowship Monrovia's presence as a de facto church on Sundays does not breach separation of church and state provisions enshrined in the US Constitution.
"My school board approved rental of the facility and (FM) uses it on Sundays when school is not happening," said Kirk McGinnis, principal at Monrovia High. "We're not mixing the two entities."
McGinnis acknowledged that the school partners with FM in fundraising drives "to support our more needy students and families in crisis. They work with me when I'm aware of a family that needs more assistance than we can provide, and (FM) connects them with (agencies) that can provide extra clothes or a meal."
Dr. Katherine Fundukian Thorossian, superintendent of the Monrovia Unified School District, said two other churches rent facilities at schools in her district, but noted that Fellowship Monrovia draws the largest crowds on Sundays.
"Would the presence of cars on a lot on a Sunday give the impression that we are associated in a manner not appropriate? I'm not sure that it does," she said. "These are not just Monrovia community members" who attend services in the auditorium, she added.
Thorossian observed that FM's rental of the facility is "consistent" with the decades old California Civic Centers Act, a section of the state Education Code which provides regulations on school rentals and how much can be charged. She said the rental fees paid by the churches help the district economically, "but it's not income on which we rely," she said. "And it's not unusual. I've seen this kind of arrangement before in other districts."
FM's rental of space from Monrovia High for afterschool use does not seem problematic to Peter Eisenberg, legal director of the American Civil Liberties Union of Southern California.
"It's generally true that schools are entitled to rent out their spaces after hours, but it's not like a bright line," he said. "We let all sorts of nonprofits use (school) facilities and it's not likely a problem under the US Constitution or California law if they have equal access," and the government does not appear to be favoring a religion, or conversely discriminating against a religious group and denying it free speech.

The Right Message
When asked, the goateed 40-year-old Tate lets it be known that he's not on the same page with the late Southern Baptist preacher Jerry Falwell (who seemed to believe that gays, feminists, abortionists and the ACLU brought on God's wrath and caused 9/l1). Nor is he in step with famed televangelist Robertson, who last month said the Las Vegas massacre could be traced to "profound disrespect" for President Donald Trump.
"I wasn't attracted to any of those people growing up," Tate says. "They send the wrong message."
Rather, Tate says he was inspired by the sermons of the Rev. Dr. Martin Luther King, Jr. In 2014, Tate contributed to a King-inspired book edited by Bryan Loritts titled "Letters to A Birmingham Jail: A Response to the Words and Dreams of Dr. Martin Luther King," which calls for racial inclusion in evangelical Christian churches.
Of his older conservative peers like Robertson, "They usually have a lot of money and can buy a lot of time on television," says Tate. "But most Christians don't think like that and they don't go to their work places with that kind of message.
"That's not what we commonly experience" at FM, he continues, referring to his congregation which has been gathering for nearly five years at three non-denominational Sunday services in the 1,700-seat auditorium of Monrovia High at 845 W. Colorado Blvd. (Two other Sunday services are held at FM's rented "campus" building at 401 E. Huntington Drive.)
"We have gray hair and no hair in the room and also colored hair," quips the sharp-witted Tate, who doubles as an itinerant preacher answering invitations to give sermons around the world. "We have Catholics, Presbyterians, Orthodox Armenians. We have Republicans, Democrats, Trump supporters and Hillary supporters and people who are disengaged. We just center on Jesus and on the Gospel. For an hour and a half, we look for something bigger than the elephant and the donkey. We try to lift our eyes beyond the noise of Fox News and CNN."
A Man With Gifts
Tate's personal trajectory is of a young man who struggled with his studies, flunked out of high school, got help and obtained a GED. He said he was ordained at Wesley Biblical Seminary in Jackson, Mississippi and ministered to Sweet Home's tiny congregation while still a student there. Tate applied to the prestigious Fuller Theological Seminary in Pasadena and was accepted, moving to Southern California with his wife LaRosa. They now have three children and live in Azusa.
The historic Lake Avenue Congregational Church is near the Fuller campus. Tate took a job there and was named pastor of International Ministries. His varied skills attracted the attention of Lake Avenue Senior Pastor Greg Waybright, who encouraged him to start a church of his own.
"I thought this man has gifts and we've got to use them," recalls Waybright. "He was so clear with his leadership and communications. He has a charismatic and dynamic personality that gets the need for the Bible. I saw he needed to have the freedom for his own church, and we raised funds to help him get it."

A Church Is …
Tate started small in January 2012, holding Sunday services in a city building.
"He was renting our community service building in the heart of the Old Town area and within a month he had to have two services," says former Monrovia Mayor Mary Ann Lutz. "I went to one of his services and was blown away. Right away you feel an energy with him. He talks and it's like he's right in front of you. He's funny and poignant and he doesn't mess around. He outgrew our community center."
Lutz remembers somebody suggesting to Tate that he might find a new location at Monrovia High School, which was remodeling its theater auditorium. Tate applied and began renting the space for a fee he prefers not to disclose.
"He fills that auditorium every Sunday," Lutz said. "The most wonderful thing about this congregation is that they are from all ethnicities, and they come from all over the San Gabriel Valley. He's got other pastors who are also amazing."
According to Tate's new Executive Pastor Scott Hitzel, who once ministered at the Saddleback megachurch in northern Orange County, the goal of FM is to create "an army for Christ" and confront the ills of society, especially racism. One of its programs is called Racial Reconciliation and has sent groups to India; another addresses sex trafficking.
Hitzel has known Tate for 10 years and considers him a "generational leader" on par with Pastor Rick Warren, author of the bestselling devotional book, "The Purpose Driven Life." He wants to help his boss guide the "accelerated growth of a relatively young church."
However, Hitzel doesn't see the church moving from Monrovia High School to a formal religious edifice anytime soon, noting that to do so would diminish the donations that support FM's ministries that take congregants "from birth to their last days."
Tate says the rental fees FM pays go to help Monrovia High's arts program "and it's a win-win" situation. Tate further notes that a church is not just a brick and mortar building with a steeple.
"I think brick and mortar has its place, but a church is really a body of people who consistently gather and then scatter so we might bring hope and love and kindness to the world," says Tate.
Comments