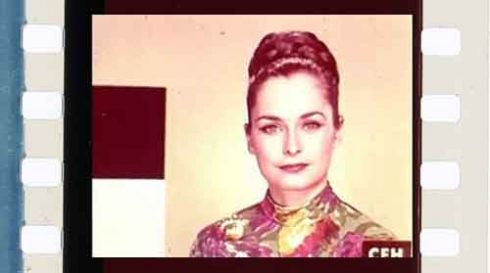 By Katherine Hisako Glascock
[Katherine Hisako Fukami Glascock (August 31, 1940-October 15, 2017) was a musician, artist, and was best known as a landscape designer. She was married to Baylis Glascock, who we have featured previously on this website, for more than 50 years. In a May 22, 2003, article on her work in the Los Angeles Times, the paper's garden specialist Emily Green wrote:
["Katherine Glascock creates gardens that express the true nature of the land and the people who live there. No two are alike, but all bring together strength and elegance."
[Baylis has made available to us two samples of Katherine's writing. The first, "Finding Bambi," written in the late 1990s, we featured in our October 1, 2018, postings. This month we are publishing her essay "China Girls," written on May 15, 2013.]
*  *  *
The following is from the program notes of a Los Angeles Filmforum presentation, titled "China Girls", May 12, 2013, Spielberg Theatre at the Egyptian.
"The various faces of the 'China girl', sometimes called a 'China doll' or 'girl head', have appeared in more films than any actress, though she is almost never seen, save for the fleeting glimpses an audience might catch at the end of a film reel. These images of a woman, positioned next to color swatches, have appeared on the leader of every commercial manufactured film since the late 1920s and continue in limited use today. The China girl image is instrumental in determining exposure, image density, and color balance, forming a kind of cinematic unconscious. Her essential but often overlooked role in film history has also made her a compelling subject for experimental filmmakers variously examining issues of celluloid materiality, the behind-the-scenes workings of the film industry, and the often marginal role of women. In some cases, the China girl is no less than the enigmatic icon of a vanishing medium."
–Genevieve Yue Read more