August 1, 2011 · Posted in
Commentary
·
Comments Off

on The Sierra God Machine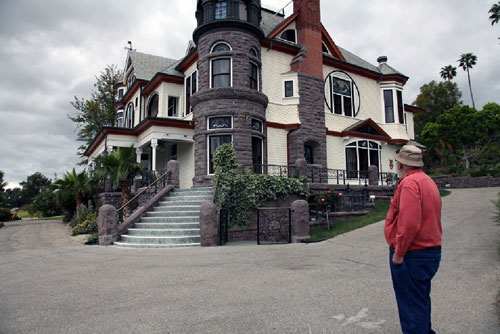 Photographer Susan McRae captured Ari as an old man standing in reverie in front of the Mansion House where the Sierra God Machine Was Born.
By Lionel Rolfe
Ari began his journalism career in the early sixties by writing for the communist
People's World. By the end of that decade, he had done a lot of knocking around small town weeklies and dailies. It was in the late in that decade when he was called into the office of the publisher of the Inglewood Daily News and fired because his connection with the People's World had resulted in his name appearing in an Un-American Activities Committee report.
In a dreary suburban L.A. area town of dirty white and faded pink stucco apartments and
fifties tract homes and a downtown long before gone to seed, the Daily News did not have enough of an economic base to survive much longer. But it continued to exist in Ari's
mind, because he never forgot when the publisher fired him because the California
Newspaper Publishers Association had found the reference listing him as a subversive. Read more
Glassell Park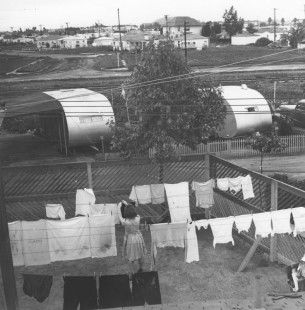 Ansel Adams, Courtesy Los Angeles Public Library
By Phyl M. Noir
Bruno got a job as an engineer's assistant for the city and rented a house in Glassell Park. Malcolm came to live with him and Minda. Bruno thought implausibly: with time Malcolm was going to be all right.
Bruno had a job before this one. He had taken care of schizophrenics and worked with them at a car repair shop because Malcolm went to the same doctor as they did. That hadn't worked. Dr. Hilarius came by the repair shop and punched the schizophrenics in the face to make them better. Most of the schizophrenics ran squealing out of the back of the shop into the alley and didn't finish their work. Malcolm, however, waited behind the door until the others had gone and leapt on Hilarius's back and punched him in the head. The doctor ran out the door covering his head with his arms. Read more

By Honey van Blossom
(Honey is a Belgian Marxist former strip-tease artiste.)
The terminus of the Glendale Freeway (now called the 2 Freeway), which is on one side the anus that disgorges automobiles and at the other the maw that engorges automobiles, blights Glendale Boulevard all the way to Angelus Temple. I'll call that area "the Corridor" because I don't know if there is an official or popular name for it.
In 1963, the State created the legal infrastructure for the 2 as a freeway that went from the Antelope Valley to Santa Monica via Avenue 36. The 2 Freeway presently crosses 36 and Fletcher Drive in Glassell Park. Read more