By LIONEL ROLFE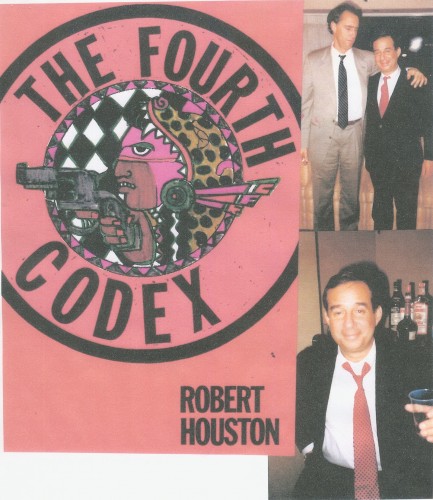 Book jacket of "Fourth Codex" with inset photos of imposter spy novelist and publishing exec victim
Leslie Evans
Three oil company drill sites in the West Adams section of South Los Angeles, operating more than 100 underground wells, have been the center of recent citizen protests, ramped up government inspections, a City Attorney lawsuit, and complaints that the city's Zoning Administration has violated municipal code and possibly state law in fast-tracking oil company expansion plans. These events have raised broader questions as to the competence of the city's oversight of an industry that deals in toxic, explosive, and flammable materials but has been allowed, from the days in the late nineteenth century when there were few zoning rules, to establish thousands of wells in residential neighborhoods throughout the city. Since the early 1960s most of these have been slant drilled underground, with scores of pipes emanating in all directions from anonymous compounds hidden behind high walls.
The recent West Adams complaints first arose in 2010-11 around Allenco Energy's drill site at 814 W. 23rd Street in the University Park neighborhood north of USC, adjacent to Mount St. Mary's College. Allenco purchased the operation in 2009 and boosted production 400%. Soon, neighbors began experiencing chronic nosebleeds, respiratory problems, headaches, and nausea. By late 2013 the South Coast Air Quality Management District (SCAQMD) had received 251 complaints. Community protest meetings drew several hundred people. The federal Environmental Protection Agency (EPA) sent inspectors, who were made ill and determined that leaks of petroleum fumes from badly maintained equipment were the cause. Allenco voluntarily shut down on November 22, under pressure from U.S. Senator Barbara Boxer. On January 7, Los Angeles City Attorney Mike Feuer filed a lawsuit to prevent Allenco from reopening until they comply with all applicable health and safety regulations.
Subsequently, two drill sites acquired last year by the giant Freeport-McMoRan Oil and Gas company became the subject of community complaints. Read more
By LIONEL ROLFE
 Getting older was supposed to be easier than this–more like a wonderful long vacation. But of course it hasn't been that way. My wife left me just before I turned 70 and I'm still not getting along with it too well a couple of years later. I don't have enough on social security to survive, so I still am working part time at my old high-stress journalism job. And becoming something of a lonely and grumpy old man in the process.
 Yes, I have a lot more aches and pains than when I was younger. I am sometimes painfully slow traversing the hallways of my apartment and getting on the clanking elevator going down to my car. The good life in my dotage is eluding me. I don't just jump out of bed to face the young day with a great deal of enthusiasm. I groggily wake up each morning, gulp my coffee and hope for an easy time in the bathroom.
I suppose a good love affair would fix everything right up. But my last marriage was romantic, wonderful, exotic and adventurous for the first years. I traveled half way around the world to meet her. I am not optimistic enough to think that will ever happen to me again. I know abstractly it would make me feel alive again. I notice that on those rare occasions we meet and walk somewhere, my step gets a spring in it I otherwise don't have. But she's gone, and I'm essentially alone again, and it's not like when I was 19 and there was always someone else coming along, for better or for worse. Still, I have to believe in this big, bad world there is somebody for me. I'm not looking for her duplicate.  I also know that married men don't cope with being alone as well as women, who are more communal creatures than us. But life goes on for us as well.

NOTES FROM ABOVE GROUND
By Honey van Blossom
(Honey is a Belgian Marxist former strip-tease artiste)
The life of a forgotten poet reveals a pageant of changes in California consciousness, about the place of women in society, about forbidden love, about the emergence of California literature, and about the transition from the Mexican era in Los Angeles.  
Ben Tarnoff's The Bohemians: Mark Twain and the San Francisco Writers Who Reinvented American Literature (2014) describes the contributions of four iconoclastic writers set against the background of bohemian San Francisco, an era that began with their work for the Golden Era in the last years of the American Civil War, and which continued with their creation of the Overland Monthly.
Nigey Lennon in The Sagebrush Bohemian (1990) conjectures there was a romantic relationship between Twain and Coolbrith and Harte and Coolbrith. If there had been such a three-way relationship, gossip about it would have knocked San Francisco society off its heels.
Brett Harte, one of the four, referred to Ina in 1870 as a "dark-eyed Sapphic divinity."  Coolbrith's good friend John Muir attempted to introduce her to eligible men.  The circle of writers, poets and artists she influenced called her the Virgin Poetess. Read more