THE LOBSTER: NINETY-FOUR YEARS AND COUNTING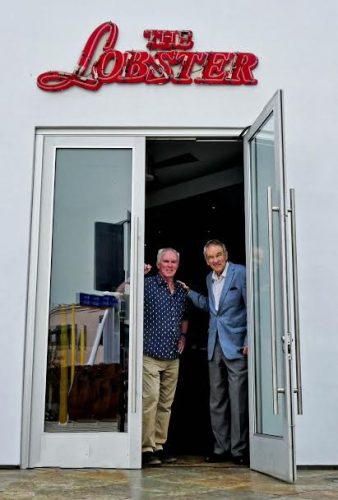 Bob and Arnie arrive at The Lobster with the Lunch Club Photos by Barry Stein.
By Bob Vickrey
It may not look like the "Seafood Shack" of old, but the latest version of the old landmark at the beach still offers that same breathtaking 180-degree view of the crystal-blue Pacific.
Our monthly lunch group decided it was time for some seafood, so The Lobster, located adjacent to the Santa Monica Pier since 1923, was an easy choice. The old seafood house has gone through several incarnations during its 94 years, and the latest upgrade completed in 1999, transformed it into an upscale restaurant that reflects the ever-changing economic climate in Santa Monica.
There were such huge crowds of tourists in downtown Santa Monica that we would have likely been better off parking in far-away Culver City and walking the seven miles back to the pier. This newly "re-imagined" beach city now offers bike lanes, bus lanes, skateboard lanes, dog paths, and train depots, but inexplicably left out an accommodation for one seemingly outdated mode of transportation—the automobile.
Arnie had mentioned that his good friends, the Scolneys, had lunch there every Thursday, so we took that as a rather solid endorsement of the place. When we arrived, he asked the maitre d' if she knew the Scolneys, which drew a broad smile from her. "Yes, Peter and Kathleen! They are here every Thursday like clockwork."
We may never know if the staff there treats all their customers like we were treated, but here's a shout-out to Peter and Kathleen, whoever—and wherever you are. Thanks for the great table by the window, the gift bags, and the free pony we received.
Josh wasn't able to join us since he's been under the weather recently, so this time it was just the three of us. When our drinks arrived, we raised a glass to the empty fourth chair at our table.
The guys know that I am often seized with an uncanny craving for oysters, of which there is no known cure until I can eventually "down" a dozen on the half-shell—although a dozen fried will suffice, or Oysters Casino, or Rockefeller—or whatever selection they're offering from the kitchen. You get the idea. I like oysters.
The first item we spotted on the appetizer menu was "Dabob Bay Oysters" from the state of Washington, and our group immediately decided that it was a sign from above that these somehow mysteriously bore my name. They were quickly dubbed the "Da-Bob's."
Our seasoned waiter Mike brought lots of personality to his job and told us he had worked at the restaurant for 15 years. He said half the staff had been there since the place reopened after the remodel—always a sign of a stable establishment—or perhaps reflecting their inability to land a suitable part in a movie.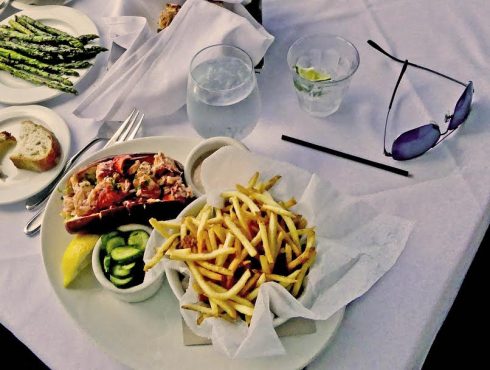 I ordered my fried "Da-Bob's" accompanied by a couple of side dishes of Yukon potatoes and grilled asparagus. I also had an ice-cold glass of Firestone pale ale. I had always thought that Firestone made tires—not beer, but my ale had a nice malty aroma and full-bodied flavor with just the slightest hint of burned rubber.
Barry went for the lobster roll with Japanese mayonnaise on a toasted butter roll with fries and pickled cucumber. When I asked him why he always seemed to order sandwiches during our outings, he told me he likes to eat with his hands. He apparently likes bread wrapped around his lunch whatever the contents inside may be. However, I'm confident that he is perfectly skilled in the use of a knife and fork because we once witnessed him using real utensils when we dined at Spago last year.
Arnie drifted off the seafood menu page and ordered the sautéed mushroom and toasted hazelnut pasta. Personally, I would have added an oyster or two to the dish, but Arnie scarfed it down so quickly, it appeared he hadn't eaten in days. (However, his wife Jackie told me that he had eaten his breakfast earlier that morning in much the same way.)
We ordered a box of biscotti cookies to drop off at Josh's house on the way back home, although after opening his consolation gift, he was likely reminded of the old slogan: "You guys go on an adventure and all I get is this lousy tee-shirt!"
Bob Vickrey is a writer whose columns appear in several Southwestern newspapers including the Houston Chronicle. He is also a regular contributor to the Boryana Books website. He lives in Pacific Palisades, California.
Comments