TALKING POLITICS AND "KASHA VARNISHKAS" AT NATE 'N AL's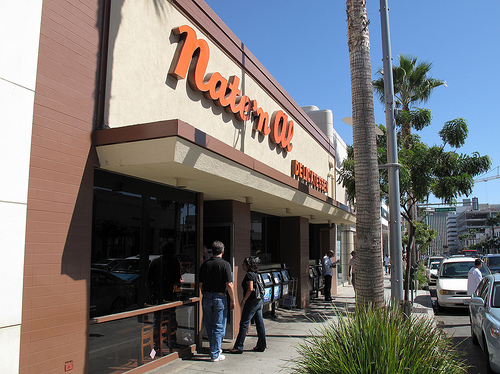 By Bob Vickrey
Many people describe the city of Beverly Hills as stylish and fashionable, while others view the excesses of Rodeo Drive-area retailers like Prada, Armani, and Tiffany's as nothing more than shrines to wealth and privilege.
Our monthly lunch group wasn't really taking sides on the issue. We simply made the trek there for a sandwich at Nate 'n Al's Deli.
No matter what one might find inherently wrong about Beverly Hills, the city certainly got one thing right—their parking structures. Where else can you go on L.A.'s Westside and park your car practically next door to your ultimate destination—and do so free of charge? Try that in Santa Monica or Pacific Palisades.
Each waiter at Nate 'n Al's wore shirts with logos that saluted their 70th anniversary, which it celebrated last year. The delicatessen has always been a spot frequented by show business personalities, including actors, executives, and agents. Many deals have been made in those uncomfortable squishy vinyl booths since the place opened in 1945.
Speaking of our waiter; after his initial "fly-by" visit with our glasses of water, he went missing for so long that we became worried we'd soon be asking for dinner menus. But the ensuing wait gave us plenty of time to catch up on the circus-like Presidential campaign currently in progress. The general consensus among the group of favorite candidates—given the unsettling choices available—was a unanimous endorsement of comedian Larry David, who does a better impression of Bernie Sanders than even the real Bernie Sanders.
As the only Gentile in our foursome, I was once again schooled by my lunch mates about menu items that I had missed while growing up and dining at fine eating establishments like Bob's Big Boy and Dunkin' Donuts. Barry introduced me to "kasha varnishkas," which was a dish I only recognized from Mel Brooks' movies. The group had already introduced me to "hamantashen" on an earlier trip to Canter's, so these guys had already built credibility in the field of Jewish delicacies.
When our wayward server returned from his extended sabbatical, we all jumped in at once to order before he disappeared again. Josh had the tongue sandwich; Barry, the lox, cream cheese, onion, capers—no tomato, on sesame bagel—toasted well. (He ended up with a poppy-seed bagel—not toasted well.) Arnie ordered the special "Deli Omelet" (corned beef, pastrami, tongue, onion, and cheese)—BUT, minus—the pastrami, tongue, onion, and cheese. I chose the rather mundane selection of mushroom and avocado omelet with an English muffin, and thankfully, was not roundly booed by the others for my less-than-adventurous order.
During the course of our conversation, Josh abruptly asked me when I was going to "get with the program" and finally become Jewish. When I considered my impressive credentials for conversion, I realized that I had been to at least four Jewish delis in the last year, and I was almost sure I'd get points for having seen "The Ten Commandments" three times when I was a kid. But perhaps more importantly, I was now able to throw words around like "hamantashen" and "kasha varnishkas." I was already beginning to envision a late-life bar mitzvah in my future. Maybe it would also help us get a better table at delicatessens if we were all Jewish.
When we attempted to get our check from the wandering waiter, several other servers said they would send him right over to our table. But after awhile, we again became concerned about his general well-being and thought about how we could arrange for his picture to appear on a milk carton, so he could be safely returned to his workplace when he was found.
But just as we had about given up, he suddenly appeared from the kitchen. Arnie made a leaping tackle in the aisle and successfully wrestled the check from his pocket.
As we were leaving our table, the attentive woman sitting next to us smiled and said, "You guys look like you were having such a great time." I told her about our monthly routine and she seemed to like the idea so much that I think she was waiting for an invitation to join us next month.
It took Josh another half-hour to make it to the front door as he visited with fellow diners on the way out. He has a long-standing reputation of chatting up whomever he meets in public, and as we watched from a distance, it appeared that he had three guys at one booth totally entertained.
On our way to the car, I began to consider our waiter's erratic luncheon performance, and decided I might just go with Langer's Delicatessen to cater my impending bar mitzvah. I'm told their kasha varnishkas is just terrific.
Bob Vickrey is a writer whose columns appear in several Southwestern newspapers including the Houston Chronicle. He is a member of the Board of Contributors of the Waco Tribune-Herald and a regular contributor for the Boryana Books website. He lives in Pacific Palisades, California. 
Comments