'SOPRANOS' WANNABES VISIT CARMINE'S RESTAURANT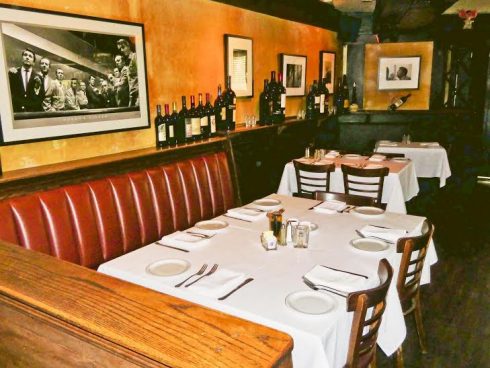 Carmine's Restaurant booth featuring picture of cast members of "Oceans Eleven" Photo by Barry Stein
By Bob Vickrey
The atmosphere at Carmine's restaurant in West Los Angeles was so authentically old-world Italian that one would have thought our lunch club group had just taken an exit off the New Jersey Turnpike and slipped into Tony Soprano's favorite hideaway.
So, like I was sayin', my pals Pauley, Vito, and Johnny 'Sack'—better known as Arnie, Barry, and Josh, were seated in our favorite corner booth and were a bit uneasy about who might be coming through the back door. Vito (a.k.a Barry) always seemed to have our backs so we could enjoy the best food in town without looking over our shoulders.
The original Carmine's was opened in 1972 and named after the late Carmine Competelli, Sr., who was said to have given such individual attention to his diners that he "could warm the coldest of hearts." The original Carmine's embraced the old Hollywood tradition of intimate dining, and in its heyday, was a favorite among celebrities.
During dinner hours every third Friday, Carmine's features live musical performances as a backdrop in the dining room's romantic low-light setting. The thought of watching "Vito" stuff his face during one of those mood-altering Friday night dinners made me very glad we were there for lunch.
Carmine's II returned in the fall of 1995 under the guidance of Carmine's eldest son, Carmine Jr., and his partner Kim Papeterra. The updated version of the restaurant offered a new spin on Mediterranean-Italian cuisine, which "my guys" seemed ready to check out.
Our group was in excellent spirits this outing because of the return to the team of Josh Greenfeld, who we had recently been forced to place on the "injured reserve" list. With his return to the starting lineup, the humor level at our table was immediately elevated, and our personable server Sarah seemed completely entertained by our longtime writer friend.
We began by ordering "Toasted Raviolis" with marinara sauce for our shared appetizer, which was so tasty that it created some table infighting. Barry ordered Penne Puttanesca with tomatoes, olives, capers, anchovies, peppers, onions, garlic, and whatever else the chef found in the kitchen. Arnie chose the chicken parmigiana, and I decided on eggplant parmigiana, which turned out to be considerably more appealing than what they sounded like when we ordered them.
Josh ordered the Chicken Dino, named after a certain crooner who hung out there for years ("Dino," not the chicken!) The dish included Italian sausages, potatoes, onions, mushrooms, green peppers, and the remaining contents of Carmine's refrigerator.
We topped our lunch off with—what else? — Carmine's special tiramisu. We probably outstayed our welcome, but were having such a great time we didn't want to leave. I even noticed one of the staff members who emerged from the kitchen with a facial expression that said: "Don't let the door hit you on the backside on the way out."
After we emptied the joint in mid-afternoon, Sarah told us stories about some of the history of the restaurant and most of her tales included members of the Rat Pack who had been regulars there. One Saturday morning, young Carmine Jr. entered his dad's restaurant and found the remnants of an all-night poker party. Through the dense smoke, he spotted a stack of money and a handgun in the middle of the table occupied by Sammy Davis Jr., Peter Lawford, Dean Martin, and Frank Sinatra. Apparently, while aiming at the exit sign that led to the kitchen, someone put six bullet holes in the ceiling. Carmine asked "What's with the gun?" Sinatra shrugged, "Target practice."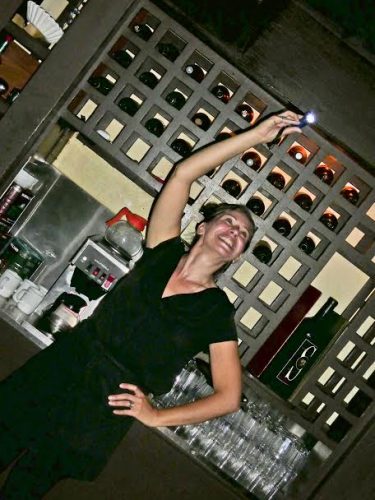 Our server Sarah points out bullet holes in ceiling left by Rat Pack members. Photo by Barry Stein
So, it turned out that perhaps the biggest threat to the safety of our "Soprano's wannabes" would have been the Rat Pack, which evidently couldn't shoot straight, and who no longer posed much of a danger. Barry was finally able to let his guard down and stop peering over our shoulders.
On the way home, Arnie asked if I was planning to include every possible Italian stereotype in my story about Carmine's. But I was certain that the late Carmine Sr. would have understood that once we had entered the doors of his classic Italian bistro, the warm, cordial atmosphere he had created years earlier had already melted this writer's cold, cold heart. Who knows? Maybe it was time for Carmine's to adopt a new Rat Pack—minus the handgun, of course.
Bob Vickrey is a writer whose columns appear in several Southwestern newspapers including the Houston Chronicle, and is a member of the Board of Contributors of the Waco Tribune-Herald. He is a monthly contributor to the Boryana Books website. He lives in Pacific Palisades, California. 
Comments