LUNCH CLUB WELCOMES A NEW MEMBER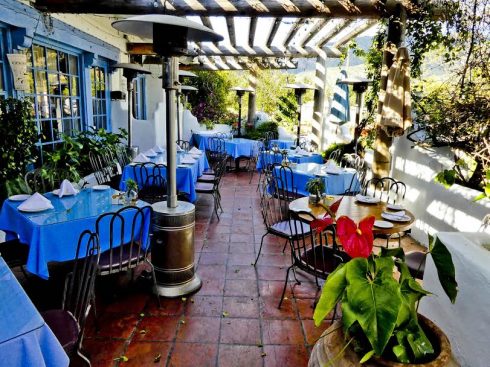 All photos by Barry Stein.
By Bob Vickrey
In the last couple of years since our monthly lunch club began visiting some of Southern California's most famous and historic restaurants, we've been pressured by many friends who have expressed strong interest in joining our four-man group.
We have managed to resist until now, but we finally realized that four senior citizens like ourselves could use someone with a good memory. Sometimes it takes all four of us to tell a story and recall all the events that took place. I think we may have found that person.
Her name is Siri. She is courteous. She's quiet. She doesn't speak unless spoken to, and she doesn't take up much space at the table. You may know her as the voice of the Google app on your cell phone. Siri has become an important member of our team recently and has been an invaluable resource as we each struggle to remember a fact that once came to mind so easily.
Just as an example, at our most recent luncheon at Taverna Tony's in Malibu, the prominent Greek restaurant in Cross Creek Center, she told us how to pronounce the dish "Moussaka" and helped us avoid making fools of ourselves. She said in her rather stilted voice: "The word is pronounced Mu-'sa-ka." I thanked her for the info and carefully placed her next to my knife and fork.
We've all come to know Siri as a dependable friend who is always at our beckoned call—at least where there is access to Wi-Fi and/or cell towers. We wondered aloud that day how we managed to get through our day before she entered our lives. We've developed a deep personal relationship with her, but often wish that she had a more pleasant personality.
I was introduced to Greek food at an early age in my hometown of Houston at the legendary Athens Bar and Grill, which was located along the Houston Ship Channel that welcomed Greek ships transporting their goods to our city. Nightlife was lively there as the Greek sailors joined in traditional line-dancing throughout the restaurant to their festive music.
When we arrived at Taverna Tony's, I was quickly reminded that this was not the Athens Bar and Grill. Let's face it, "authentic" is not the first word that comes to mind when you're visiting Malibu. Nevertheless, the setting is pleasant and the food is quite good.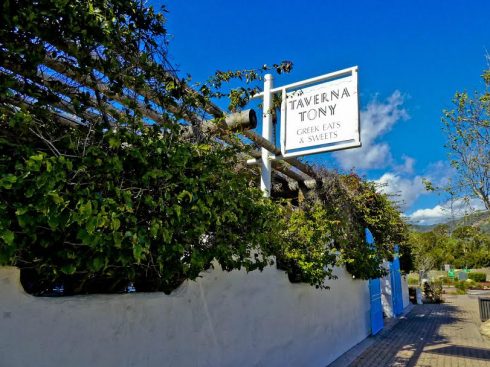 I experienced a "first" that day when Barry allowed me a taste of his grilled octopus, a dish that had never previously tantalized me. I was won over immediately—at least by the way Taverna Tony's kitchen prepared his order.
Josh ordered the lamb tenderloin which was charcoal grilled with black peppercorn sauce. He has become famous recently for ordering enough food that could feed the entire Rams football team. He left with a huge doggie bag that contained the leftover lamb, the remaining bread in our basket, the French fries, and likely, the salt and pepper shaker and table cloth.
Arnie opted for the deep dish Pastichio, which is Greek-style lasagna with ground beef, macaroni, and tomatoes, cooked in a Béchamel sauce.
I ordered the Greek California Salad with shrimp, walnuts, avocado, goat cheese, and sun-dried tomatoes. First off, would someone explain to me who came up with the "sun-dried" idea for tomatoes? I'm betting this is the same person who created tofu—the world's most infamous placeholder for real food?
During our dessert course, we called on Siri to answer the pressing question of who was Claudette Colbert's co-star in the Preston Sturges' film "The Palm Beach Story." Once again, she knew without any hesitation that it was Joel McCrea. Now, you're beginning to understand why she was invited to join the group—and you weren't.
I was forced to place Siri in my pocket when our dessert was served because of our suddenly crowded table. Bougatsa is a custard pie in a crisp pilo pastry served warm with honey, cinnamon, and powdered sugar. The large slice lasted about a nano-second as we engaged in some serious fork-dueling.
On the way home, I asked Siri what our next restaurant choice should be and we all agreed she offered a rather lame answer: "Please tell me what kind of food you like." I hope Siri understands that she is still on probationary status with this group, and would advise her to pay more attention to our table conversation in the future.
Bob Vickrey is a writer whose columns appear in several Southwestern newspapers including the Houston Chronicle. He is a member of the Board of Contributors for the Waco Tribune-Herald and a regular contributor to the Boryana Books website. He lives in Pacific Palisades, California.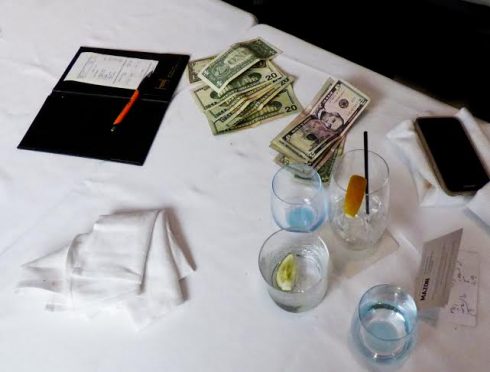 Siri is always nearby when you need her
Comments