LUNCH CLUB DEVELOPS A CASE OF SPITFIRE GRILL ENVY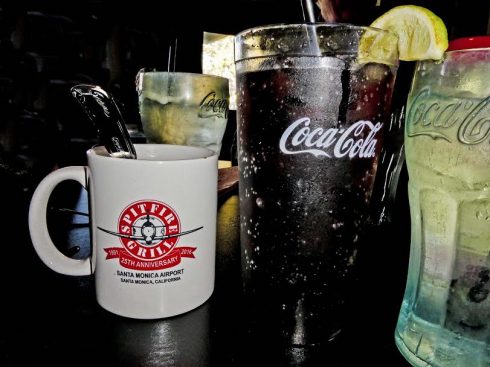 BY BOB VICKREY
Photos by Barry Stein
From the moment our monthly lunch club entered the Spitfire Grill restaurant in Santa Monica, I began envisioning a place like this in our own village.
This informal neighborhood bistro and bar across the street from the Santa Monica Airport felt immediately like home as we were escorted to our table—and as I simultaneously began helping Rick Caruso plan his Palisades Village Project with an excellent restaurant choice for his consideration.
The "Spitfire" had its roots in the old Lindaire Coffee Shop that opened on the same site in 1954 by a young Air Force Lieutenant who had grown tired of the complaining by his fellow pilots at Douglas Aircraft about having nowhere to eat in the airport area. The restaurant quickly became the favored dining spot and hangout for the aircraft workers at Douglas as well as for the employees of nearby Clover Field.
Eventually, the coffee shop became the Kitty Hawk and Clover Field became Santa Monica Airport. The restaurant was sold in 1991 and was renamed the Spitfire Grill, which offered a respectful nod to Santa Monica's aviation industry—including a generous display of World War II and Douglas Aircraft memorabilia that now adorns its walls. A giant mural of the Spitfire fighter plane is painted on one of its outside walls.
The 1996 movie "Spitfire Grill" was loosely inspired by the restaurant, although it was fictionally set in a small town in Maine and starred Ellen Burstyn, Allison Elliot, and Marcia Gay Harden—and written without any mention of an aviation theme. The writer and director Lee David Zlotoff had rented an office above the restaurant and had become fascinated with the charm of the place and the people who worked there.
Today's crowd appears to be a gathering place for neighbors from nearby residential areas, complemented by large groups of workers from next-door office parks and airport employees from across the street. Upon arriving, I noticed there were a number of hardy souls sitting in the large outdoor dining area on this brisk and windy January afternoon. These aviation types appeared to have been much braver than our group, and we quickly found indoor seating.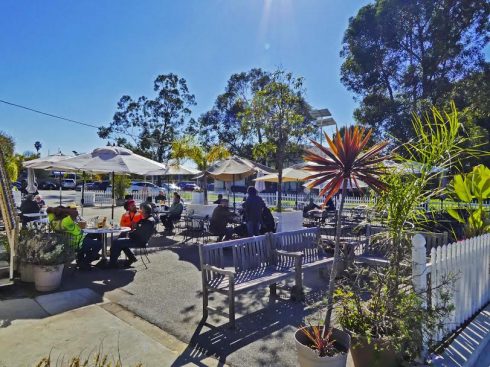 Barry guessed that the mostly male crowd in our dining room looked decidedly like pilots—who were so clean-cut that their closely-cropped gray hair appeared to have been only hours since their last haircut.
Before our waitress Debbie took our order, we asked Josh for a full report on how he was progressing with the massive veal chop he had taken home in a doggie bag from last month's trip to the Pacific Dining Car. He assured us that he had finished off the stubborn chop and so we allowed him to proceed with his order for more food. He decided on the Belgian waffle accompanied by an enormous pile of strawberries that partially obscured his vision from his fellow lunch mates.
Barry ordered the "Beechcraft" sandwich, which in non-aviation terms translates to charbroiled herb chicken breast served on sourdough topped with jack cheese, sautéed mushrooms, avocado, lettuce, tomato and a dollop of sour cream. Arnie opted for the "Clipper" sandwich whose secret code is grilled filet of halibut served on focaccia with tartar sauce, red onion, tomato and cucumber—but please lose the red onion and cucumber! I was extremely hungry and took the first thing I spotted on the menu—fish and chips—and ordered a Dale's Pale Ale draft to wash it down. Best cold beer I've had in years.
After hearing all the dessert choices, Arnie, who is our expert in such matters, selected the carrot cake which was roughly the size of a 1956 Buick Sedan. It took half-an-hour for the four of us to dispose of the one slice of cake.
On the way to the parking lot, I realized what a treasure Spitfire Grill is for the lucky residents of Santa Monica. It offers a comfortable meeting place, big screen televisions, a friendly staff, good food and cold beer—and all for the right price. What's not to like? As General McArthur once proclaimed, "I shall return!"
But wouldn't it be even better if our next rendezvous took place in our very own "Spitfire" on North Swarthmore. I can dream, can't I?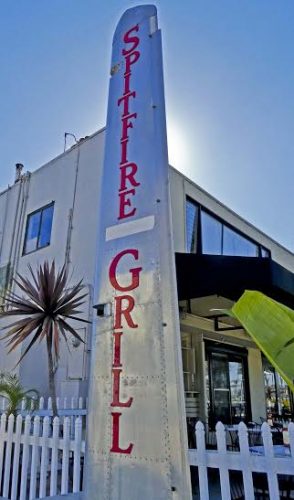 Bob Vickrey is a writer whose columns appear in several Southwestern newspapers including the Houston Chronicle. He is a member of the Board of Contributors for the Waco Tribune-Herald and a regular columnist for the Boryana Books website. He lives in Pacific Palisades, California.
Comments