LUNCH CLUB BRINGS ALONG A PROFESSOR
By Bob Vickrey
The recent reopening of The Proud Bird Restaurant on Aviation Boulevard near LAX offered a different kind of experience for our monthly lunch group with its reimagined "Food Bazaar" and interactive aviation exhibits.
As we entered the open-air food hall with a giant replica of a P-40 Flying Tiger hovering above us from the vaulted ceiling, I thought perhaps they had misspelled the word "bizarre." Communal tables, lounge seating, and the Mile High Club Bar surround the open kitchen area. The presentation appeared to be "Snoopy and the Red Baron buzz Grand Central Smorgasbord" with a little dash of "Admirals Club" thrown in for good measure.
The staff claims it can accommodate 1,200 guests in its events center, but since our group came up about 1,196 people short of that number, we decided to have our lunch in the dining hall instead.
Our distinguished guest this month was Marvin Zuckerman, a longtime Palisadian and great friend of ours for many years. Marvin is the Professor Emeritus of English at Los Angeles Valley College where he had chaired the English Department and was Dean of Instruction until his retirement in 2002.
Marvin is the author of several English textbooks, as well as the popular "Yiddish Sayings Momma Never Taught You." He has written and translated several Yiddish works, and recently translated Bernard Goldstein's Polish memoir: "Twenty Years with the Jewish Labor Bund," published by Purdue University Press. He founded the Courtlandt Literary Agency shortly after retirement where he represented many writers hoping to have their own books published.
Marvin is married to Kathy Kohner, who is well-known on the Westside as the real-life "Gidget." Kathy's father Frederick Kohner wrote the 1957 best-seller about his teenage daughter's adventures in the Malibu surfing community. The book has now sold more than two million copies (and still remains in print.) The book inspired the 1959 "Gidget" movie, which also spawned several sequels.
The Proud Bird features six culinary kitchens that offer Asian, Italian, and American cuisine, including Bludso's Barbecue. I had missed making it to Bludso's Compton location before it permanently closed its doors, so here was this second opportunity of sampling its famous smoked ribs and brisket.
Navigating the various food stations brought back memories of our Clifton's Cafeteria experience where diners wandered the dark corridors carrying empty trays looking like lost children searching for their mother. The vast cavernous space at The Proud Bird has the feeling of eating in a giant airplane hanger that casts an eerie echo when you speak.
Three of us headed to the Bludso's booth while Arnie wandered the building looking for his Asian-themed lunch. We didn't wait for him to return with his teriyaki salmon dish, as we eagerly attacked our mouthwatering barbecue. Barry and I ordered brisket sandwiches, which were generously covered in Bludso's tasty barbecue sauce. The sandwiches received rave reviews from both of us. In fact, I enjoyed mine so much, I may have been guilty of making quiet euphoric sounds while downing my meal.
My one nit-pick was that I would have preferred the addition of sliced pickles on the bun. Maybe next time, I'll bring along a jar of Del Monte sweet pickles in my pocket. Barry said he would have preferred his bun heated. Marvin had the "kosher" pork ribs which he described as "meaty and quite spicy," and judging by his perspiring forehead—perhaps spicy to a fault.
Arnie showed up at the table with his salmon dish as we dabbed the remaining barbecue sauce from our faces, hands and freshly laundered shirts. We proceeded to watch him eat. He forged ahead completely undaunted by our gaze.
While the others had more interest in the aviation exhibits than I did, I headed back to the Bludso's Barbecue "exhibit" where I ordered a small rack of pork ribs to take home. I decided that some people like planes, while others like barbecue.
I met Carlos who was preparing the dishes behind the Bludso's counter, and who readily assured me that he cured and smoked the meats on site. I gave him a big "thumbs up" for his efforts.
Our first trip to The Proud Bird served as perhaps an orientation process and maybe next time we'll have the system down pat. We likely won't be forced to put out a missing person report on Arnie—and we'll also know to bring our own pickle jar and Barry's trusty toaster.
Bob Vickrey is a writer whose columns appear in the Houston Chronicle and the Waco Tribune-Herald. He is a monthly contributor for the Boryana Books website. He lives in Pacific Palisades, California.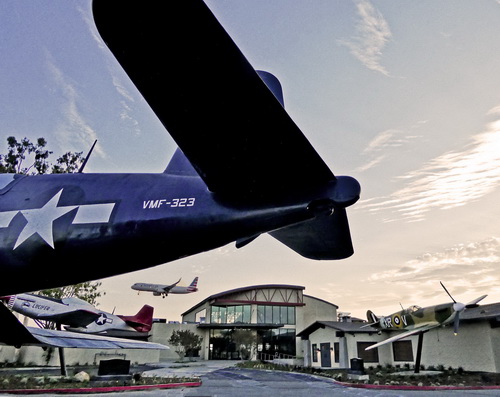 Comments