JEREMY TARCHER: WEST COAST PUBLISHING LEGEND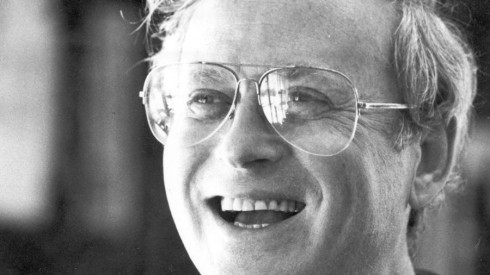 Publisher Jeremy Tarcher (photo Ken Hively/LA Times). This photo best summed up Jeremy's image
By Bob Vickrey
 There was a pronounced cadence and deliberate pacing to his speech pattern. He always spoke very pre-cise-ly while utilizing perfect enunciation of each word. Many of us who worked with Jeremy Tarcher in the book publishing business were completely captivated by his style and extraordinary elegance.
That distinctive voice was silenced on September 20th when he died at his home in Los Angeles from complications of Parkinson's disease at the age of 83.
Jeremy P. Tarcher carved out a publishing niche for himself more than 40 years ago, and helped usher in a movement that spread across the country in decades to follow. His books on creativity, psychology, spirituality, and social consciousness made significant contributions in a field that came to be known as the "human potential movement."
He had come from a show business background before he founded his publishing house, which was located in the heart of the Sunset Strip only a few blocks from Tower Records, Spago, and Book Soup. Jeremy P. Tarcher Books effectively revolutionized West Coast publishing by offering books focused on the mind, body, and spirit.
Tarcher specialized in non-fiction titles, and in the company's infancy, he smartly utilized his long list of celebrity contacts. One of his first big successes was the publication of his friend Johnny Carson's Happiness is a Dry Martini, and in 1974, published Joan Rivers' book, Having a Baby Can be a Scream.
His company produced a number of best-selling books that had exceedingly long bookstore shelf lives. Betty Edwards' Drawing on the Right Side of the Brain was one of the hottest books in the late 1970s and remained on best-seller lists well into the next decade. Robin Norwood's Women Who Love too Much reached the top of the New York Times best-seller list in 1985. Julia Cameron's The Artists Way succeeded in finding a worldwide audience in 1992, and eventually sold millions of copies.
Jeremy Tarcher was a native New Yorker who met and married ventriloquist and puppeteer Shari Lewis, and helped produce her first network show for NBC in 1960. Her lovable woolly-headed "Lamb Chop" entertained and mesmerized several generations of children in her long and storied television career.
Tarcher helped found the publishing house of Stein and Day, but eventually left the New York company and started his own Los Angeles-based imprint. His endeavor eventually became the most profitable publisher on the West Coast. Once during a People Magazine interview, when asked how he could expect to successfully publish outside of the New York environs, he answered "Being 3,000 miles from the orchestra (referring to the traditional East Coast standards), we can make our own music out here."
Michael Murphy, the co-founder of Esalen Institute, published several books for J.P. Tarcher, and was a pivotal figure in the human potential movement. Jeremy's long association with Murphy led to his connection with Esalen and its rich wealth of creative voices associated with the Institute. George Leonard was another Tarcher author who was once President of Esalen and a notable pioneer in the same field.
Jeremy P. Tarcher and his idiosyncratic West Coast taste for alternative lifestyle books seemed somewhat an odd fit to partner with Houghton Mifflin, the venerable old Boston house that had published the likes of Emerson, Longfellow, and Thoreau. But in 1980, the two companies began a partnership that led to an eventual merger.
I was then the Southern California sales representative for the staid and provincial New England company that was hoping to establish a prominent presence on the West Coast.
During our first meeting with the Tarcher staff in Boston, I vividly remember the mystified faces of my peers seated around the conference table as Tarcher presented his new books for the forthcoming season. We were not always entirely clear regarding the subject matter of J.P. Tarcher Books during those first few seasons. Our group had been more accustomed to hearing an editor's pitch of a new novel from Howard Fast or Pat Conroy, than books about spirituality, occultism, or self-improvement.
However, as that first week progressed, Jeremy's intelligence and charm began winning over his skeptical audience and we welcomed the messenger and warmed to his terrific staff members. In time we adapted to his personal taste in publishing and became better equipped to properly represent his line of books.
Jeremy eventually bought his company back from Houghton Mifflin, and after two decades of publishing, sold his operation to the Putnam Publishing Group in 1991. He retained his position as publisher of the imprint until 1996, when he retired from the business.
His wife, Shari, died two years after Jeremy's retirement. Their daughter, Mallory, continued her mother's legacy by becoming a puppeteer herself, and has kept the iconic Lamb Chop's tradition alive with her many performances throughout the country.
Jeremy Tarcher's remarkable influence even won over a number of skeptical traditionalists back in our Boston offices and had many of us reading books we would likely never have considered before his arrival on the publishing scene. The man had certainly left his mark on those who knew him—as well as the millions of readers who were drawn to the books he published.
Bob Vickrey is a writer whose columns appear in several Southwestern newspapers including the Houston Chronicle, and is a contributor to the Boryana Books website. He lives in Pacific Palisades, California.
Comments