ESCAPING THE RAT PACK AT EL COYOTE

By Bob Vickrey
It seems that just about every legendary Los Angles restaurant our monthly lunch club has visited in the last couple of years, staff members invariably claim Frank Sinatra and his "Rat Pack" once hung out there.
So, fearing an uprising from our readership about overworking the "Rat Pack" theme, I decided to call ahead to our next destination and make sure Sinatra and his entourage had never held target practice in the back room with their plate of chicken enchiladas. When the host of El Coyote failed to understand my "Rat Pack" reference, I realized he had perhaps confused me with the city health inspector. Nevertheless, I knew we had found our spot for August.
Arnie had previously visited El Coyote, while Barry claimed to be a regular there, and even went so far as calling it one of his favorite L.A. haunts. Our special guest Bill Bruns and I were both making our maiden trip to the fabled Mexican restaurant on Beverly Boulevard that had first opened its doors in 1931. I guess you might say we were slightly overdue for a visit there.
Bill is a well-known local journalist, best known as the former Editor of the Palisadian Post for twenty years, and who now acts as advisor and copy editor for the Palisades News. However, he enjoyed a long distinguished career in journalism before returning to the newspaper business in the Palisades.
After attending the University of Redlands and UCLA, he worked at Life Magazine from 1965 until 1972, where he wrote features (e.g., Mark Spitz, Billie Jean King, Johnny Bench) and covered two Olympic Games.  Shortly after relocating to LA with his wife Pam, the magazine folded and he pursued a 20-year career as a freelance writer. He co-authored numerous non-fiction books including five with Hall of Fame tennis coach Vic Braden—the first of which became a 12-part PBS series. During that same period he served as bureau chief for TV Guide in Hollywood for three years.
After arriving at El Coyote, we discovered that the restaurant owned a dark piece of Los Angeles history as the place actress Sharon Tate and three friends ate their last meal in August of 1969, before returning to her Benedict Canyon home where they were slain by cult followers of Charles Manson. Arnie was curious to know which booth the Tate party had occupied, while I was strongly favoring a table in some far-away dining room.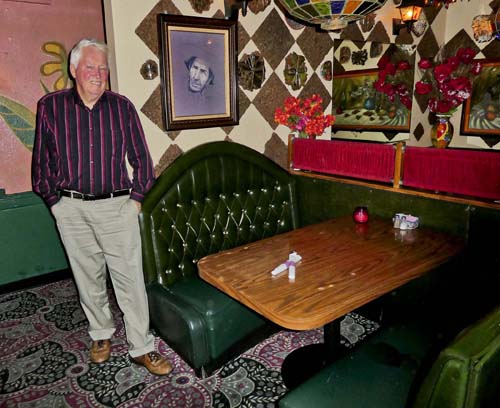 Special Guest Bill Bruns at Sharon Tate's Booth. Photos by Barry Stein
Our group had a difficult time fitting into one of El Coyote's booths that supposedly had been designed to seat four people. These booths in older L.A. restaurants we have visited seemed to be getting smaller, or else our bodies have been growing ever-wider over the years. After showing us to three different tiny booths, our maitre d' finally found one in the corner that was large enough where we were not forced to take turns exhaling during our meal. (I'm sure he was quietly thinking that we should order the dietary salads as our entree.)
Bill's son-in-law Mike Mininsky is the manager of El Cholo Restaurant in Santa Monica, so Bill was curious about how the food at El Coyote would compare. He ordered a similar combination dish that each restaurant offered, which was a plate with a green corn tamale and cheese enchilada. He also wanted to compare the margaritas at each place.
Barry chose the vegetable tostado, and as usual—no tomato. When I asked him once why he disliked tomatoes so much, he said "I like them, but I just don't eat them." I chose not to challenge his ambiguous logic because I happen to respect the old slogan, "a man wants what a man wants."
Arnie ordered the chicken tostado and a cup of tortilla soup, which he later talked about more than the tostado. I chose the chili relleno and green corn tamale plate as well as a margarita on the rocks.
We were duly impressed with our charming server Rocio, who took our extensive order without writing it down. She seemed pleased that we appreciated her good memory. We accused her of showing off after she quickly repeated our orders before leaving the table. "When you've done this for 18 years, that's the easy part," she said.
We all agreed El Coyote was a cozy and festive place that we'd visit again, but Bill said he might prefer the much shorter drive to his "family" hangout at El Cholo. We also agreed that El Coyote's flan was on par with any we had sampled in L.A.
On our way out, Rocio led us to the booth where Sharon Tate sat with her friends on that fateful night in 1969, and told us that customers who visited the restaurant from all over the world asked to see the booth.
After considering this rather morbid event as the centerpiece of a restaurant's history, I decided that maybe our earlier lunch club stories which chronicled local "Rat Pack" hangouts were suddenly beginning to look better than ever.
Bob Vickrey is a writer whose columns appear in the Houston Chronicle and is a member of the Board of Contributors for the Waco Tribune-Herald. He is a regular contributor to the Boryana Books website. He lives in Pacific Palisades, California.
Comments