Disputing Rasputin, Despair & Other Maters That Try My Soul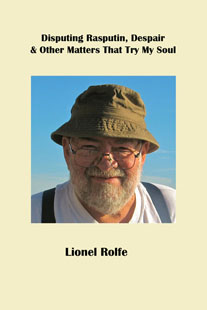 Lionel Rolfe
Author and journalist Lionel Rolfe says these essays may be his final summing up. At the moment he feels they are. But Rolfe has published eight books, and he similarly felt this way after each one of them was published, he admits.
Many of his books are focused on California, which he sees as a state of mind as much as the most significant state in the American union. He has worked as a staffer and a prolific freelancers for for some of the most prestigious newspapers in California–the Los Angeles Free Press, the Los Angeles Times, and the San Francisco Chronicle. He was for a decade the last editor of the B'nai Brith Messenger, the second oldest newspaper in Los Angeles until its death in the late '90s.
He also was an editor for Psychology Today when that magazine was edited from Del Mar, north of San Diego on the Pacific Ocean. He is the author of the classic Literary L.A., The Menuhins: A Family Odyssey, The Uncommon Friendship of Yaltah Menuhin and Willa Cather and Fat Man on the Left.
But these essays do not stay in California nor are they concerned with only California things. In this book he writes about love and despair, death, religion, great music, London, and personal encounters with folks like Eugene McCarthy, Ed Asner, the real "Columbo" and violinist Yehudi Menuhin, who was his uncle. He didn't know Steve Jobs, but he felt some strong connections that put him close to the man.
As in the past, he writes about a large array of those he has known and befriended, the eccentric and the exceptional, the corrupt and the incorruptible, the charismatic and the naive, the utopian and dystopian, the visionaries and victimized, the radical and the reactionary, the (in) famous and the unjustly forgotten.
The son of concert pianist Yaltah Menuhin and Superior Court Judge Benjamin L. Rolfe, journalist and author Rolfe has been profiled in the Los Angeles Times Magazine, among other nationwide periodicals across the country, and featured in PBS's documentary America Utopia. A documentary about Rolfe and his book Literary L.A. is in production. He is the author of ten published nonfiction books and one novel. His prior work has been praised by Publishers Weekly, the Los Angeles Times, Booklist, Variety, and as far-flung as the Guardian.
Rolfe speaks regularly at writers' conferences, public forums, and in university courses on the subjects of literature, music, politics, and culture. He currently resides in Los Angeles.
Comments