CHEZ JAY'S: "DIVE" OR SANCTUARY?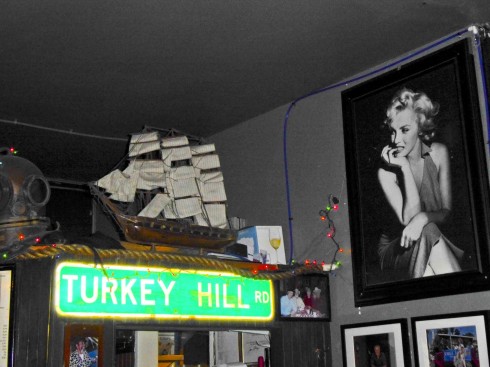 By Bob Vickrey
 As you make the drive down Ocean Boulevard in Santa Monica, there stands a modest—almost ramshackle—building amid the bustling growth of new condominiums and hotels there.
The late Jay Fiondella, the founder of Chez Jay's bar and restaurant, might well have taken exception to his beloved watering hole being listed on several sites under the designation of "LA's Favorite Dives," but he also might have had to acknowledge that his half-century-old iconic haunt does appear that it belongs to another era.
And of course, that's exactly why our monthly lunch group chose Chez Jay's for our January gathering. The size of the place had shrunk considerably since I was there last—or at least the way I had remembered it years earlier.
The dark atmosphere in the place worked well for us on this stormy Tuesday afternoon. There are several red-vinyl booths along one wall, half-dozen tables down the middle of the room, flanked by the bar with a dozen stools against the opposite wall.
Our affable and attractive waitress Mary made our experience even more memorable as she seemed to understand the celebratory spirit of our monthly get-together. We could sense the Dallas native was a perfect fit for this intimate neighborhood gathering place where many of the customers seemed to know one another. We had the feeling that after our next visit, we would also be welcomed as "regulars."
Fiondella had moved to Los Angeles from the East Coast in the 1950s to become an actor, but ended up finding more fame in owning Chez Jay's than he would likely ever have found in an acting career. He bought the place for a mere one-dollar from a friend who was struggling to keep it afloat. Jay renamed his establishment "Chez Jay's," after the restaurant "Chez Joey" in the movie "Pal Joey." Jay opened Chez Jay's in 1959 with quite a flourish, by inviting beautiful models and show girls to his bar, and quickly establishing its reputation as a place that offered a warm and festive atmosphere.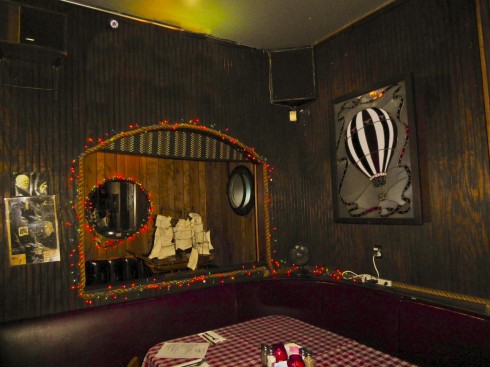 That grand opening mood set the tone, and it didn't take long for Hollywood to follow, as Frank Sinatra, Sammy Davis Jr., and Dean Martin became regulars in the 1960s. Soon, it was not uncommon to see diverse personalities such as Steve McQueen, Buzz Aldrin, Jim Morrison, Clint Eastwood, Judy Garland, Warren Beatty, and even Henry Kissinger huddling in those vinyl booths in the evenings.
British actors also discovered Chez Jay's, which some said reminded them of English seaside pubs, and soon Richard Burton, Peter Sellers, and Richard Harris, began frequenting their own American seaside pub.
Jay's flamboyant personality is what made the place such a success, and he was a natural at mixing with his patrons and making them feel at home. The ongoing publicity about his free-wheeling lifestyle had customers flocking to Chez Jay's to meet the man who was regularly seen on television talk shows and who appeared in numerous commercials. Cosmopolitan once chose him as their "Bachelor of the Month."
In fact, I can attest to Jay Fiondella as an entertaining conversationalist and raconteur, after spending one unforgettable Thanksgiving evening with him at a mutual friend's house many years ago. Everyone in attendance that night seemed to vie for his attention. He reminded me of that worldly-looking bearded fellow in the beer commercials who is described as "the most interesting man in the world," and who always seems constantly surrounded by beautiful women.
The day we arrived at Chez Jay's, the heavy rain had impacted business dramatically, so we tried several tables before finally choosing the large booth in the back—the one where we were quite certain that Sinatra had often held court and entertained his evening entourage. Mary seemed relieved that we were eventually able to make a group decision about such an important issue as table selection. She would soon learn how we employed democracy—even in life's simplest matters. (By the way, the vote on the booth was 3-1.)
As we settled into our chairs at the back table, we acknowledged that Chez Jay's was an absolutely perfect choice for our gathering.
Josh ordered the "Catch of the Day," which looked to be of indeterminate origin, but he raved about it, nevertheless. Barry decided on the Calamari sandwich—minus the tomato—and scarfed it down quickly, which I translated as a hearty "thumbs-up" endorsement.
Arnie and I ordered the grilled-cheese sandwich, but he willed his portion of avocado and trimmings to me. Arnie, being a grilled-cheese aficionado, was generous in his praise of his sandwich choice. During our earlier outings, we had already witnessed his life-long love affair with the All-American hamburger—despite his traditional exclusion of anything other than its bare essentials.
Barry survived the lunch without his beloved roasted Brussels' sprouts, but if we should ever decide on a return engagement there, I fully expect him to lobby the chef for an additional menu item featuring his favorite side dish.
But we faced a much bigger issue on our trip home in deciding where the lunch club would meet next month, as we would soon be entering the all-important February "Primary" period, and then begin lobbying for our choice of restaurants.
But democracy only goes so far, and no matter how the vote turns out, the winning restaurant will likely pale in comparison to our grand experience at Chez Jay's.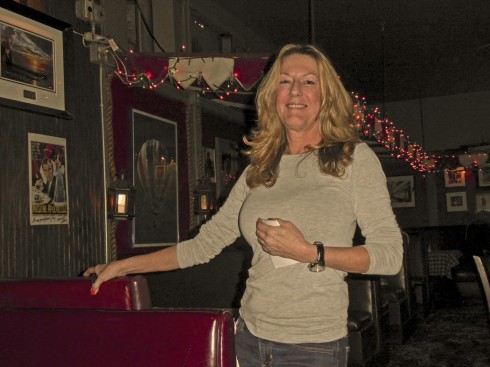 "Mary, our charming Chez Jay's server"
Bob Vickrey is a writer for several Southwestern newspapers including the Houston Chronicle. He is a member of the Board of Contributors for the Waco Tribune-Herald and a regular contributor to the Boryana Books website. He lives in Pacific Palisades, California.
Comments