Artist Yuri Elvin: Golden Under a Solar Deity: A Profile By Anna Broome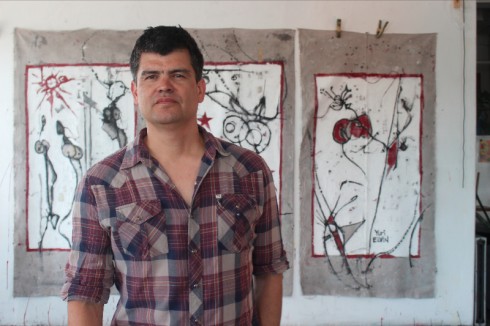 photo credit: ding ya lan
BY ANNA BROOME
A star in his own universe this California born kinetic, pornographic, cultivated painter explores, sets down in reds, yellows, black and white every aspect of savage warriors, mind-soiled thinkers, war-torn, machine-gun-carrying prostitutes, cloned parishioners and excess-driven dictators. Yes, the work has an apocalyptic style but one from the perception of an enthusiast there as much for the ride he creates for himself as the viewer.
 The work is controlled as Elvin seems free working from within his mind as he expels characters and scenes.
 Elvin begins painting as a young child with few memories only evidences of sleep-created art work. "I would wake up with drawings all around me. I wouldn't remember any of it."
Elvin's artistic talent is a birthright of sorts as both his mother and father are accomplished artists. "My Mother didn't start painting until she was 40, but my Father was always an artist, renegade of sorts."
 Yuri's Father, Steve Elvin, a former member of Hell's Angels, starter of the Church of Peyote, possibly a sharp shooter for the CIA painted his way through Mexico. A lot of Yuri's subject matter is inspired by his Father's life. As well as by his stepfather, "When I was ten years old my stepdad and I were on the lamb in South America, and the main thing I recall from the time, the thing I learned definitively was to 'cut the road', make my own way, force my own way."
 As one looks at Elvin's work, the fact that he attended military school is no surprise. Guns, grenades, helicopters, soldiers are all abound but not in the typical sense for all events, passages, subjects exist in a simultaneous present, past, future witnessed by sun, moon, gods and goddesses.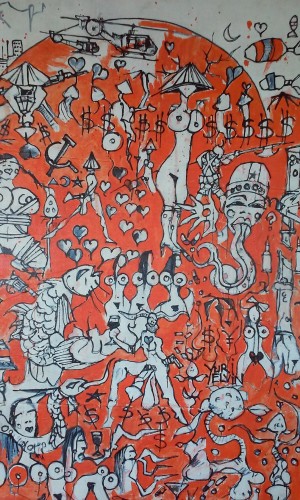 Elvin evolves. As a devotee to drawing, Elvin expands and contracts ideas through drawing. It is his work as a painter, however, that teaches him how to draw big scale. "I earned a MFA from AFI and while on movie sets all day, I would draw. Just have my head stuck in an art book."
 Working now with such means as a mustard squirter to project paint, Elvin utilizes abstract techniques he develops even as he regresses to older styles to recreate, improve previous work and concepts, extend himself as an artist and viewer of the world around him. " I have a different sense of balance now. I am moved by numbers, mathematics, size, color, shape, drawing in texture, light and the absence of light."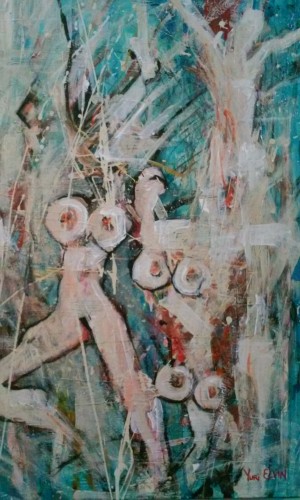 To Elvin, art is a way to see truth, his value in the world; art as a mirror of state of mind.
 Upon watching Elvin paint, he seems to move within hallucinations rooted in, transcending aspects of his life and learning. With his head down, his brush dipping inside paint cans, worlds begin: worlds where populations are without village or home, individuals interact through chaos and internal battles, greed and tyranny, life and death, love and lust offer a balance, an infinite story and experience.

Yuri Elvin is a downtown LA artist shown in many galleries, art walk pop-ups and community art centers. To view more of his work, go to http://www.yurielvin.com/home
Comments