ANNA BROOME Talks About A Fundraising Gala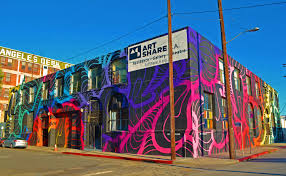 By Anna C. Broome
 Art Share LA, a community art center located in Arts District Little Tokyo has been the home and gallery of emerging artists since 1997. Cheyanne Sauter, The Center's Director of Operations, sees Art Share LA as a place for emerging artists to find their voices, styles, concepts without judgement or discrimination. Sauter's tagline for the community center is "Creation not curation", which describes perfectly Art Share's devotion to the early stages of development for artists ranging from musicians to painters, sculptors to writers, dramatists to dancers.
 As in the case of any quality non-profit centers, Art Share LA depends largely on donations and contributions to keep it thriving and evolving.
 After almost two years of bringing Art Share LA above par financially, Cheyanne Sauter now looks to the future for Art Share LA.as a creative art center with global reach. The center houses artists and community residents with more than 90% of renters being artists. It is the lone wolf resident destination for an every growing and rent increasing district. This shows the importance of a place like Art Share LA that not only offers a gallery, theatre, work spaces, classrooms and classes accessible financially for almost anyone wanting to extend or learn art forms but also a residence in the very location where artists create and thrive off one another.
 With nearly ten volunteers of all ages and artists currently in residence specializing in pottery and painting, Art Share is growing and improving as are her needs.
 Thursday, May 14th 2015 Art Share L.A. will host a cocktail reception gala event to raise money to fund their mission of supporting emerging artists. Honoree Kent Twitchell is providing 8 images from his 40-year career and 2 never-before-seen images to be displayed on a network of billboards to create a public art exhibition throughout Los Angeles provided by Clear Channel Outdoor.
 Since the week of April 20, 2015, images of Kent Twitchell's large-scale murals were installed on billboards throughout Los Angeles. These billboards will generate 30 million impressions during the month they are installed, giving Kent Twitchell's work a resurgence as well as connecting community and art enthusiasts to Art Share LA, a long time supporter of artists Los Angeles based as well as from around the world.
 Kent Twitchell's mural billboard locations include: La Cienega Blvd at Jefferson Blvd, La Cienega Blvd at Horner Street, Venice Blvd at Motor Avenue, Pico Blvd at Cotner Blvd, Wilshire Blvd at Western Avenue and la Cienega Blvd at Airdrome Street.
The event is from 6 to 10 PM, May 14th at Art Share LA located at 801 East 4th Place, downtown Los Angeles, CA 90013. For more information, contact Cheyanne Sauter at (310) 926-6657 or at cheyanne@artsharela.org
Art Share L.A.'s mission is to support artists by providing a creative environment to reside, develop, perform and exhibit. Art Share inspires artists and provides connection to the community for shared benefit.
 To check out the ongoing exhibitions and events at Art Share L.A., visit http://artsharela.org.
Comments