AN ANNA BROOME PROFILE: Ghosts of the Low Country: New EP by Tawny Ellis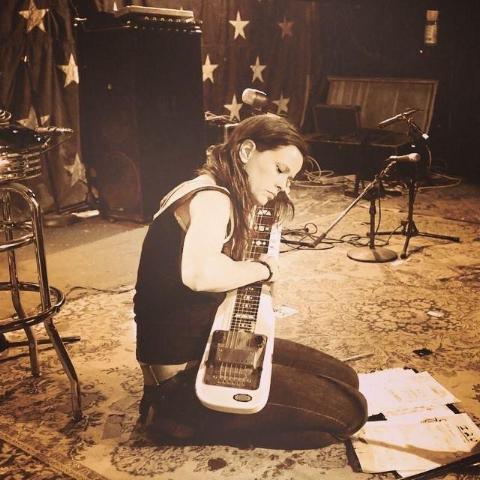 By ANNA BROOME
 Tawny Ellis, Los Angeles based musician, singer, songwriter "unlocks and elevates the many mysteries of life" through her new Muscle Shoals inspired and recorded EP Ghosts of the Low Country. For Ellis this EP is a way she takes a glimpse of, senses a connection with people from the close to her heart South.
 Mining influences as varied as Patsy Cline, David Bowie, Joni Mitchell, and Willie Nelson, the Los Angeles-based songstress channels that dynamic into an intricately textured blend of folk, rock, and alt-country that's intense and masterful but irresistibly intimate.
Ghosts Of The Low Country is due for release in summer of 2015 and brings to life the real sounds of its indigenous title.  The four tracks making the EP include collaborations with her long time partner, Gio Loria as well as members from Athens band Five Eight and bassist Peter Hamilton.
 After traveling on tour along either side of the Delta in the summer of 2014, Ellis and Loria along with band members from Athens band, Five Eight and Hamilton recorded at legendary Muscle Shoals recording studio "FAME". Rick Hall upon meeting Tawny Ellis during her passage through offered her a recording date at the end of her tour.
 The magic happened. Four tracks later, a new EP is created and Ellis breaks new ground in terms of music and experience as a collection of songs emerged bold and triumphant.
 The sounds are as soulful as the region and bring to life the aspects of music and song indicative not only of Tawny Ellis and Gio Loria, but of the very landscape of Muscle Shoals, as if the collaboration was between the musicians, and the rhythm of Singing River, a river well known for the harmonies produced from water flowing over rocks, over mud, over years of musical history. As Bono eloquently stated in the documentary, Muscle Shoals, "the music comes out of the mud."
Tracks include, Ghosts of the Low Country, Desperate Tonight, Walkin' After Midnight and Evolve or Die. Each of the songs were chosen as a best use of recording time for all the artists involved. The first track renders the story of Teh-La-Nay, a Native American of the Yuchi tribe forced from her home to a reservation in Oklahoma and her near decade travel back to her Tennessee River, she called the "Singing River" located in Muscle Shoals neighboring town Florence. Desperate Tonight, a Five EIght original, brings Georgia to Alabama incorporating the band's own sound together with Ellis and Loria. It is no wonder why to include a Patsy Cline track. Recording "Walkin' After Midnight" with its sweet sorrows and tender renderings is an obvious track for this bold yet heartfelt Ep. Ellis and Cline almost seem two female vocalists on the same side of the same coin. Evolve or Die is an older track from album by the same name recorded in 2008. It is a song for Ellis that never goes away for her but deserved all the particulars, rarities, and royalties of a FAME studio recording.
Every EP is a breath of new life for all the artists involved. Ghosts Of The Low Country  is no exception, except in all the intricate matters of Muscle Shoals where heart and mystery, home and history, river and landscape have over the decades created a magical, epic place perfectly suited for the talent and soul of Tawny Ellis, Gio Loria and members of Five Eight. These music road warriors heard the call of Muscle Shoals, the call of the singing woman in the Singing River, the Tennessee River and in the end created with her song, four tracks of ethereal even haunting beauty and complexity.
 "In my songs I try to tap into those emotions that are hard to talk about, heartbreak and loss and all the other things that are so hard to express and heal from."
Comments