A Great & Special Concert
By LIONEL ROLFE
& PHOTOS BY SUSAN MCRAE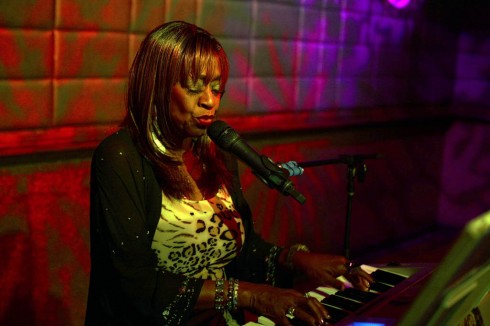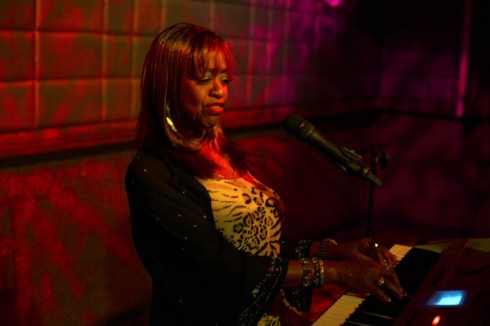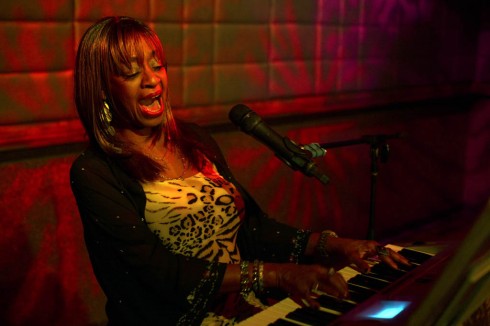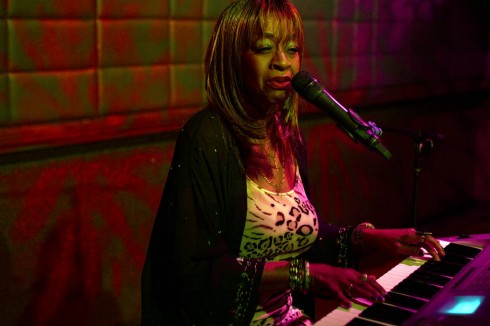 Sonji Kimmons came–one of the greatest of the unheralded blues pianists and singers around town–looked out over her audience at MJs, the bar in Silver Lake next door to the Trader Joe's last Saturday, and played her heart out.
Hopefully it is a beginning of a long residency there on Saturdays evening, even if there was no place for her to put a comforting glass of wine or a bottle of water by her piano. There  was no flat surface by her tired old Yamaha, only the rounded top of a stool brought over for her to put down her sustaining fluids. She carefully put down her wine glass after a gulp so it wouldn't crash to the floor. She also didn't have light on her music stand, so she had her own source of light. She turned the handle of a crank up flashlight between each song, to her merriment and her audience's enjoyment.
She also got up at one point, excused herself, and went to the corner to get over a coughing spell. Then she apologized, because she was suffering from a flu. She said she was deeply embarrassed because her voice was raspier than usual. When she said that, I smiled, and debated with myself whether to say what I was thinking–"baby, you should get a flu every time you sing." She thought she sounded terrible. No, I said.
"It made you sound even better. "
Her voice was deep and fuller even than usual. The words were clear like glass yet wonderfully gruff and expressive.  Like she does whenever she sang, she gave new meaning to all the old love songs.
She then sang one song that had an almost "Mac the Knife" snarl to it. There was nothing sappy to it. It was about the intense pain that comes at the end of a love affair and a tough love way of dealing with it. Whose song was that, people asked.
"Mine," she said, "I just made it up."
The audience seemed surprised.
"No, I really did," she insisted. "Just now."
She obviously was on a roll. Someone said do "Nothing but a Hound dog." So she did her own unique variation on the old Elvis song, funny and delightful.
Sonji is a treasure in reduced circumstances. Really she's had health issues, lots of pain, money troubles because of the problems. Sonji's never recovered from a major career move–in 1977 she returned to her native Los Angeles because her mother became ill. For 20 years, she had been a headliner at some of the top venues in Europe, Asia and Africa. Like a lot of jazz greats, she went off to London, Paris and Zurich where they appreciate blues more than they do at home.
I don't know if Sonji is quite as great a singer as Piaf or Billy Holiday or her hero Dianna Washington, but those folks are gone now, so it doesn't matter. Sonji grew up in Central Los Angeles, teethed on gospel music, and when she was 13 recorded a solo 45 for Dot records, one of the archetypical labels of the blues. Upon the occasion of her return to Los Angeles Variety noted that "Europe's wonderful jazz treasure for 20 years is now home in Los Angeles. Rolling Stone reported that "One song and you're hooked. She has a voice and rare style that keeps you wanting more.
*
Lionel Rolfe is the author of a new book, "The Misadventures of Ari Mendelsohn: A Mostly True Memoir of California Journalism." The book is available on Amazon in paper and on Kindle. He will sign the book at Skylight books at 1818 N. Vermont Ave. on March 30, 5 p.m. He's also the author of several other books, including the classic "Literary L.A.," also available on Kindle. McRae is a freelance photographer and veteran journalist.
Comments