REVELING IN THE NIGHT LIFE AT DAN TANA'S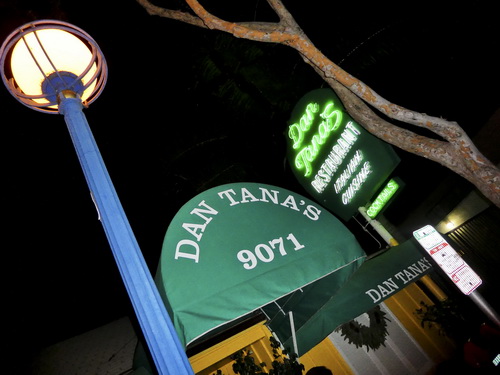 photos by Barry Stein
By Bob Vickrey 
Singer Ray Price once sang "The night life ain't no good life, but it's my life," and it certainly appears that our monthly lunch club has adopted his famous motto in recent months.
After visiting The Galley in Santa Monica in November, we thought we should continue to visit famous L.A. restaurants that only open for business after dark. One spot that has been on our list is Dan Tana's, the venerable West Hollywood Italian cucina and watering hole.
We forged into the cold, windy December night despite weather forecasts that had called for Southern California temperatures to plunge below the 70-degree mark. That kind of perseverance and dedication to our mission has become this group's trademark.
The celebrated 54-year old restaurant is well known as a place that offers good food, a friendly atmosphere, and has always been known as an unpretentious celebrity hangout. Decades ago, Richard Burton and Elizabeth Taylor made this their secret hideaway, and it didn't take long for word to spread. Suddenly, you needed a reservation to get a table.
And all these years later, Dan Tana's still features its red-and-white-checkered tablecloths and hanging bottles of Chianti, just like it was in that earlier era.
When Dan Tana opened his restaurant in 1964, he closed each night at 11 p.m., and was often home in bed by midnight. But all that changed in the 1970's, when the nearby Troubadour Club began booking big stars like Elton John and Van Morrison. The concert-goers were looking for a late-night dining spot after the show ended, and Tana obliged them by keeping his doors open to accommodate the wayward partiers.
Last month's trip to Dan Tana's included our special guest Laurie Sale, a longtime Palisadian and native Angelino, who once owned the nationally renowned Children's Book and Music Center in Santa Monica.
Laurie's early-childhood teaching background offered her the experience and opportunity to open one of the first (and largest) independent children's bookstores in Southern California. She was widely respected in the business, and publishers often called upon her for book blurbs and endorsements. She was regularly quoted in Publishers Weekly about book sales and trends.
The store hosted many of the most famous children's authors of the time including Judy Blume, Maurice Sendak, Chris Van Allsburg, David Macaulay, James Marshall, Tommy de Paola, Mr. Rogers, Pete Seeger, and many more.
Her Palisades home has been the site of many publishing parties where authors, publishers' representatives, bookstore owners, and friends would meet in the summer for a day of music, merriment, and camaraderie. Media reports of higher-than-usual instances of absences from the workplace on Mondays following one of Laurie's parties were thought to be purely coincidental.
After her store closed in 1991, Laurie held various jobs in the education field, and then later worked alongside the late City Councilman Bill Rosendahl. That experience helped lead her into creating a Business Improvement District in Pacific Palisades. "BID" is a non-profit organization made up of commercial property owners designed to create maintenance programs, marketing, and other services not provided by the city.
Upon our arrival at Dan Tana's, we encountered a mob scene crowding the front doorway and wondered if our 6:30 reservation would be honored. However, Arnie greeted the maitre d', who immediately pushed past the crowded entryway and led us to our booth. The seasoned host must have undoubtedly read the press releases for Arnie's "Night of Comedy" appearance on January 20th with Billy Crystal and Kevin Nealon.
Laurie's presence immediately elevated our groups' sometime less-than-scintillating dinner conversations. When you understand that many of our exchanges have begun with lines slightly beneath Algonquin Round Table standards such as, "How about them' Dodgers?," you'll appreciate why we strive to bring in interesting guests who can help raise the level of dialog.
Some of the waiters in the room appeared to have worked there long enough to have served Dick and Liz their vodka martinis back in the day. As we were handed our menus, Arnie quietly pointed out the gentleman sitting in the adjacent booth who looked very much like singer Neil Sedaka, and then confirmed his sighting with our waiter. Later that evening, Arnie, who is an otherwise rational man, veritably tackled Sedaka on his way to the men's room, but the extremely gracious and charming singer appeared undaunted by such typical interruptions to his evenings.
We munched on fried calamari as we studied our menus. Laurie chose the Caesar salad, while Arnie ordered the "Chicken Parmigiana a La Nikola." Barry ordered a made-to-order dish of linguine Al dente, Aglio e Olio (garlic and oil) with anchovy and broccoli. Mine was a bit simpler—"Scallops, Sauté." We topped it off with cappuccinos, tasty flan, and a large wedge of tiramisu.
As we made our exit, Arnie spotted former Palisades Honorary Mayor Bob Saget at a nearby table and soon was engaged in conversation with him and members of his party. We later speculated that during the evening, Arnie had met almost every diner in the place, but we took note that he may have missed table #12 in the very back of the room.
That night, our group sadly discovered that  the "night life" may no longer be "our life," since we were all back home safe and sound by ten o'clock. But I had also witnessed Neil Sedaka stifle a yawn earlier in the evening, and I'm betting that he fully understands our senior dilemma.
Bob Vickrey is a writer whose columns appear in several Southwestern newspapers including the Houston Chronicle and the Waco Tribune-Herald. He is a regular contributor to the Boryana Books website. He lives in Pacific Palisades, California. 
Comments