The January 10, 2018, issue of the Los Angeles Review of Books carries a lengthy sketch of journalist, author, and Boryanabooks founder Lionel Rolfe. Anthony Mostrom, under the title, "Lionel Rolfe and the Rise and Fall of the L.A. Coffee Houses," begins:
"AUTHOR LIONEL ROLFE is a retired Los Angeles journalist who has written for nearly every newspaper and magazine that's existed in or near the city in the last 50-plus years. Indeed, though a frequent traveler, Rolfe has never lived far outside of L.A. These days he lives in a small apartment in Atwater Village. He's lived alone for almost a decade, since his third marriage ended in divorce. There were many women in his life, many friends and enemies, many loves and many hates."
The full text can be found here:
https://lareviewofbooks.org/article/lionel-rolfe-and-the-rise-and-fall-of-the-l-a-coffeehouses
Mary Reinholz
First appeared in the January 29 issue of Bedford and Bowery, a New York magazine website.
The late Fred Bass, longtime owner of the Strand Bookstore who died January 3 at age 89, is getting posthumous bear hugs from the City of New York, which is expected to name a bench after him in Washington Square Park. It has also named January 26 "Fred Bass Day," said U.S. Senator Ron Wyden of Oregon, who on Friday night presided at a public memorial for Bass at the iconic East Village store.
"Yesterday the family was told by the mayor's office" about the city's tributes, noted Wyden, who is married to Bass's daughter Nancy Bass Wyden, now the sole owner of The Strand. She has been credited with modernizing the store starting in 2001 and now works daily with general manager Eddie Sutton in dealing with the store's mammoth inventory of used, rare and new volumes.
Wyden did not mention that the Strand last week slapped the city, Verizon and Con Edison with a $160,000 lawsuit for negligence in the wake of a series of morning manhole explosions and fires that blew out front windows and damaged the independent bookseller last March, forcing a day's shutdown. Read more
By Vicki Whicker
Mother's Day, 2011, 6 am. Central New York.
A breeze touches my cheek and I open my eyes to a room full of light and fresh country air. Outside, leaves flutter on the branches of giant old trees.
First thought—Home.
Second thought—Jim's home.
Third thought—This is so not LA.
I'm wrapped like a mummy, wearing every bit of clothing I brought on this trip…leather jacket over down jacket, hat, scarf, fingerless gloves, two pairs of socks, and cowboy boots. Read more
By Bob Vickrey
Columnist Chris Erskine of the Los Angeles Times has become a trusted friend in recent years, although we've never actually met.
Reading his funny and gentle family-themed columns has become an addictive habit for me as I sip my morning coffee. Some people like sugar and cream with their morning brew, but I prefer a daily dose of "Erskine" with my coffee.
Before Chris, there were Al and Jim—better known in Southern California as the late L.A. Times' columnists Al Martinez and Jim Murray. Those talented writers always helped connect me with the world-at-large with their personal and humane reflections about daily life.
Yes, I'm probably out of step these days with most folks, as American readers have slowly abandoned the traditional print version of the news and have opted for online access to the happenings of the day. In fact, when a young friend of mine catches me with my head buried in the sports section, she loves to tease me with her familiar refrain, "So, I see you're once again catching up on yesterday's news." Read more
By Bob Vickrey
When I first walked into the Palisades Drugstore Café almost forty years ago, I thought I had stepped into a Norman Rockwell painting.
Jeff Kool, the longtime owner of the Palisades Bookshelf, had told me one of the best lunches in town was right down the street at the local drugstore. As I entered the back door and passed the pharmacy counter, I made my way toward the unmistakable buzz of lively conversation emanating from the busy lunch crowd seated around two adjoining horseshoe-shaped counters. Read more
By Bob Vickrey
During the closing credits of many television variety shows of the 1950's and '60's, the off-camera announcer would routinely remind viewers, "Hotel accommodations for tonight's guests during their stay in New York City were graciously provided by the beautiful Waldorf Astoria Hotel."
Since no one ever offered those same accommodations during my stays in New York, last month's lunch club visit to the glitzy new Beverly Hills Waldorf provided my first glimpse into at least one version of the storied hotel.
The original New York City hotel was built in 1893 in two stages, as the Waldorf Hotel and the Astoria Hotel, which accounts for its later dual name. The hotels were demolished in 1929 to make way for the construction of the Empire State building. The business reopened as the Waldorf Astoria two years later in its present location on Park Avenue, and quickly became known as one of the world's most prestigious hotels. Read more
By Vicki Whicker
May 2011, Midnight, Central New York.
Finally, at Jim's door. The Los Angeles to Albany flight topped by the three-hour drive (that should have taken two) has done me in. I'm exhausted. Shivering. And, it's fucking dark. A billion stars in the sky but no moon DARK.
Jim's beast is snorting and bellowing behind the door that I just knocked my knuckles raw on. The doorknob rattles and turns, crazily. I wish the headlights to my rental car were still on. I wish I'd arrived in broad daylight.
"JAX backup! JAX! Back! JAX! Goddammit!" Read more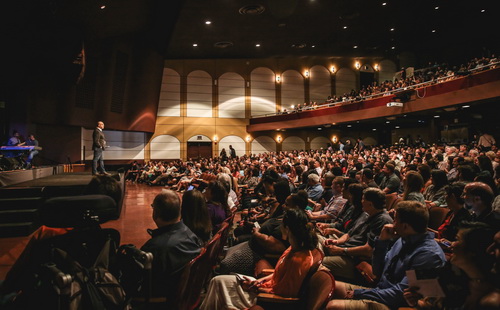 By Mary Reinholz
First published in the Pasadena Weekly, December 21, 2017
Christian evangelists often get a bad rap, depicted in the media as right wing extremists who preach fire and brimstone to a lily white choir.
But those images of TV preachers like the late Jerry Falwell and Pat Robertson get turned on their head by Albert Tate, the charismatic African-American lead pastor and founder of Fellowship Monrovia, FM, a multi-ethnic pop-up church in the auditorium of Monrovia High School that is being touted as one of the fastest growing congregations in the San Gabriel Valley.
Tate, who once led the Sweet Home Church of Christ Holiness USA in his native Pearl, Mississippi, strides across the stage of the Monrovia High performing arts auditorium 36 Sundays a year, sometimes garbed in a black cassock or red trousers with a brown jacket or jeans and a sock hat. Sometimes he skips, sits down, stands up and breaks into song. Sometimes he thunders exhortations against "me-ism" and promotes the need for sinners to be humble and submit to God, shouting, "Make your bones with the Lord!" Read more
By Bob Vickrey   
After paying the tab at a local café and noticing my burger and fries came to an astonishing $17.50, I found myself mumbling to no one in particular, "I remember when hamburgers cost fifty cents."
It was meant as a seemingly innocent comment about today's rising cost of living, but instead, I heard echoes of my dad's voice uttering a similar nostalgic theme many decades earlier.
After tossing a couple of bucks into the tip jar for my carry-out lunch, I walked out with my twenty dollar hamburger, realizing it had come from a modest counter-service cafe—not a Michelin four-star restaurant. Read more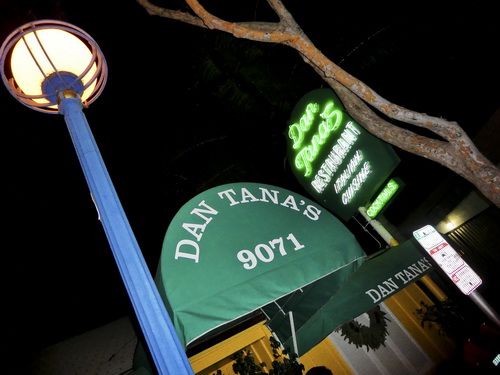 photos by Barry Stein
By Bob Vickrey 
Singer Ray Price once sang "The night life ain't no good life, but it's my life," and it certainly appears that our monthly lunch club has adopted his famous motto in recent months.
After visiting The Galley in Santa Monica in November, we thought we should continue to visit famous L.A. restaurants that only open for business after dark. One spot that has been on our list is Dan Tana's, the venerable West Hollywood Italian cucina and watering hole.
We forged into the cold, windy December night despite weather forecasts that had called for Southern California temperatures to plunge below the 70-degree mark. That kind of perseverance and dedication to our mission has become this group's trademark. Read more