A NATIVE SON'S LONG VIGIL FOR HIS HOMETOWN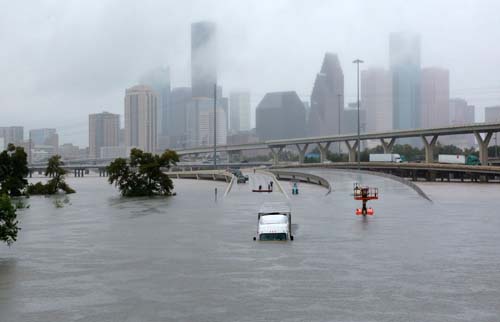 By Bob Vickrey
In recent years, we've watched natural disasters unfold in cities across the country that created unparalleled misery and hardships for its citizens that forever altered lives. Hurricane Katrina and super-storm Sandy remain indelible in our memories.
However, in watching the hurricane-spawned disaster play out in Houston, the circumstances were quite different. This was my hometown, my city, and my people. This time it was personal.
I left Houston more than 40 years ago, but this past week I found out that my heart still belonged to my beloved hometown and its people there. From my living room in Southern California, I watched television images of the inconceivable, never-ending rainfall that inundated my city.
I studied the overhead video shots of my old Eastside neighborhood of Galena Park where I was born and raised. I could only approximately estimate where the house was in Bellaire that I lived in as a newly married young man.
In fact, it was difficult to find any landmark that would distinguish one area from another in a panoramic scene featuring water as far as the eye could see.
I stayed in touch with half-dozen high school friends who are now scattered throughout the Greater Houston area, and they kept me abreast of their individual situations as water crept toward their front doors.
I sensed the anxiety in their voices and their texts as they each awaited their fate, and all the while, feeling total helpless. My friend Steve, who lives in North Houston, reminded me of the name of his street—Creekview Drive, and added playfully, "Do I need to say more?"
On Day Five of the storm, I received a message that my former classmate Tommy and his wife Babs had been rescued by boat from their home off Memorial Drive. They had lost everything.
Texans have always been known for their hospitality, and in recent days they've proved their reputation was well deserved. The images of civilians jumping into action and rescuing stranded neighbors offered no surprise for those of us who grew up there.
Ethnicity and political ideology took a back seat this week as citizens pulled together and proved that perhaps we're not as divided a nation as we had previously thought.
The theme of community hospitality was a prominent component in a piece I wrote for the Chronicle in 2014 entitled, "A Life Shaped by Early Suburbia." I tried to capture the spirit of my boyhood community of Galena Park where our daily life blended naturally with the neighbors' on either side.
As communication and technology changed and began to isolate us, we may have lost some of that sense of community that once existed in another era. That is why it was so heartening to see the true spirit of cooperation and unity on display all across Houston. Folks stepped out of their cocooned lives and reached out to each other in time of need.
I recalled a passage from that earlier Chronicle column which seems apropos in light of the events of this past week:
"Our close proximity to one another required a certain civility that in due time created binding friendships and a community support system when problems arose. News of sickness at a local residence brought neighbors to front doorsteps armed with baked goods and covered dishes for dinner that evening.
Often, the bounty was so plentiful that the supplies sometimes lasted the whole week. Neighbors offered their company and helped families cope in their darkest hours. The gift of their presence was often humbling and taught us lessons in humility. We found enough in common at the intersection of our neighbors' lives that the weight of daily life was eased and made lighter."
That theme was the very embodiment of the spirit we've witnessed in Houston in recent days, and which restores our faith that the city will find its way out of this darkest of nightmares and heal the wounds inflicted by the savage rains of Harvey.
I may have been away for awhile, but I've never forgotten Houstonians' unmatched strength and resilience—and believe those are the qualities that will ultimately prevail in coming weeks.
Bob Vickrey is a former Houstonian whose columns appear in several Southwestern newspapers including the Houston Chronicle and Waco Tribune-Herald. He lives in Pacific Palisades, California.
Comments