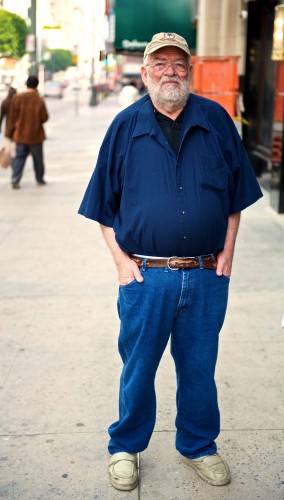 Cousin Kron Menuhin, a rural kingpin, in his field in Australia; 
Lionel Rolfe, Kron's citified cousin, speaking from the streets. Photo by Gary Leonard
By LIONEL ROLFE

I know of someone who had almost nothing to recommend him. You wouldn't really want me to write about this person, but I am doing it anyway. He was a very ugly and dreary man who lived in a rural section of Melbourne.
We had driven onto his strange old farm and were immediately met by big nasty dogs. Luckily we were in my cousin's car. With an angry snarl, the man came forth. I was in a car driven by the man who had sold him his ranch house a while back and they were supposedly good friends. But when my driver, cousin Kron, got out of his car, one of the dogs came up and bit him. Not hard, but hard enough. Kron got back in the car.
The man's effect on my mood was enormous and immediate. The doors to his house looked like they were the entrances to a shriveling but gigantic dirty shed. The man himself look like the appurtenances to his shed-house. I should also explain that the "shed" was actually a large building, but I doubt it had any living areas in it. At one point, I looked through a door leading to the kitchen. The kitchen though never looked like a kitchen. I suspect he used it to make dead rats into dinner—whatever he was cooking there, I had no desire to look further. I suspect the rats were seasoned with cockroaches. When my cousin Kron owned the house, I'm sure it was a lovely Australian abode—but it no longer was. Read more
By MARY REINHOLZ
The last time Mark Shechner and I exchanged emails, he accused me of having gone through "a string of men" after our mini–marriage broke up in Berkeley. That is true. But then single girls do date even after they get knocked up, married in a quickie wedding chapel and discarded like a wad of used tissue two years after an abortion as I was by Mark, my distinguished ex from long ago. He died unexpectedly last October at age 75.
He was not the only man to suggest that I was what used to be called a loose woman, somewhat like Marilyn Monroe to his Arthur Miller, a slutty and nutty blonde babe who had wed a serious man of letters. ("Mary has her lucid moments," he would say in his patronizing manner after we had a blowup.)
A few factoids: Mark and I tied the knot while he was a lowly graduate student at UC Berkeley, working on his doctoral dissertation, a psychoanalytical interpretation of James Joyce's "Ulysses." It became his first book, "Joyce in Nighttown." As for our bizarre and brief 1964 marriage, he said in our electronic correspondence that it was part of a relationship "that was not built to last."
"I saw you as the golden shiksa," he wrote in one of his missives, trying to answer my question as to why he had proposed to me in Los Angeles at his father's apartment.
. "There was more brass than gold," he said of me, "but I didn't know the difference back then." And then: "Why did I marry you? I didn't want to disappoint you. What did you expect?"
He acknowledged that our idyllic Big Sur vacation, where we made love under a beach blanket as people in bathing suits strolled by on the white sand, was one of the high points of his twenties and led to his popping The Question. He even sent photos he had taken of me in that West Coast paradise, some standing against a redwood tree. He had kept them all those years.
"Shock and awe, Mark," I emailed him back repeating the words ascribed to George W. Bush's carpet bombing campaign of Baghdad in 2003. "Shock and awe." I was stunned by the pictures of the young girl I once was and saddened by what could have been had Mark and I stayed together. For starters, he had economic security. I did not. Read more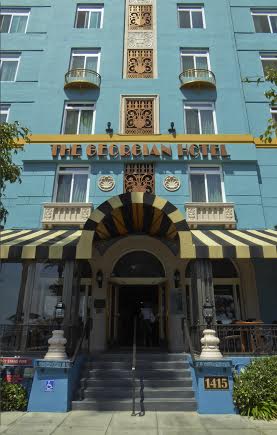 By Bob Vickrey
I doubt if Ray Charles had The Georgian Hotel in Santa Monica on his mind when he recorded his classic hit song in 1960, but I found myself humming his famous tune as our monthly lunch group made its way through the canyon to our destination on Ocean Avenue.
When we began our lunch club venture last year, our intention was to visit some of the most famous Los Angeles restaurants, but somewhere along the way, legendary Southern California hotels became an integral part of our itinerary. We've visited the Polo Lounge at the Beverly Hills Hotel, the Bel-Air, the Chateau Marmont, and most recently, the Culver Hotel, which all occupy splendid chapters of Los Angeles history.
The Georgian opened its doors in 1931 when Santa Monica was a little-known beach community, and the colorful art deco hotel became a seaside getaway for Hollywood A-listers. It became one of L.A.'s first speakeasies during prohibition and hosted the famous and the infamous, such as Gable and Lombard, Fatty Arbuckle, and Bugsy Siegel, who enjoyed martinis and jazz on the hotel veranda. Read more
Leslie Evans
"The Palestinian Authority has failed to lay the groundwork for a state," Palestinian journalist and human rights activist Bassem Eid told a Los Angeles audience June 16. He was completing a national speaking tour that began last fall and included some 27 college campuses. "It is counterproductive for European countries to recognize a Palestinian state when the elements of such a state do not exist. Even if such proposals had legal weight, they would give us not a two state solution to the Israeli-Palestinian conflict, but a three state solution. In addition to Israel we would have Hamas's Islamic emirate in Gaza and Mahmoud Abbas's small empire in the West Bank. But in any case the economic infrastructure has not been created to sustain a state and the Palestinian leadership is deeply mired in corruption and undemocratic practices."
Bassem Eid was born in East Jerusalem in 1958, when it was part of Jordan. He spent his first 33 years living in the Shuafat refugee camp. Today he lives in Jericho in the West Bank, "under the Palestinian Authority's jurisdiction," he points out. Read more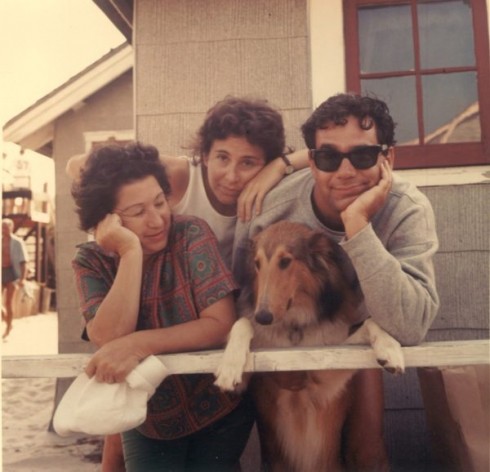 Mark Lane with Village author Susan Brownmiller, center, and Rose Rubin on Fire Island circa 1963.
This photo appeared in The Villager, where Mary ran an earlier version of this piece.
By MARY REINHOLZ
Some of the death notices picture him as a gadfly. But for me, a writer who got to know him a little in Los Angeles decades ago, Mark Lane played David versus Goliath, tilting up against seemingly impossible odds. The activist attorney and author kept sniping away at government agencies like the CIA up until the time of his death on May 10 in Charlottesville, Va. He was 89.
As his obituaries note, Lane gained international fame challenging a report by the Warren Commission–established in 1964 by Lyndon Baines Johnson– that Lee Harvey Oswald was the lone assassin of his predecessor, President John F. Kennedy, on November 22, 1963 in Dallas, Texas. He made that claim in his best selling 1966 book, "Rush to Judgment," and again in a documentary by the same name. His 1974 feature film, "Executive Action," covered similar terrain, starring Burt Lancaster. He wrote it with help from Donald Freed and the formerly blacklisted screenwriter Dalton Trumbo.
Lane became a towering figure in the counter culture of the era, nurturing a cottage industry of conspiracy theorists and amateur detectives. His celebrity came soon after a crushing blow to his political ambitions in New York, an episode that will be explored as we go along. As he once told me during an interview, "The past is prologue," quoting from Shakespeare's "The Tempest." Read more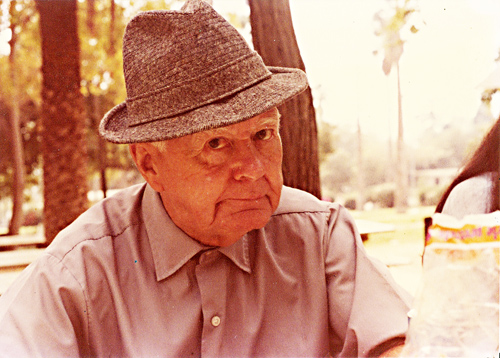 By Bob Vickrey
Everyone always knew where they could find my father.
Most days he could be found in the backyard leaning on his garden hoe in a relaxed, contemplative pose. His tranquil demeanor revealed a man who appeared to be at peace with himself and the world.
He maintained the even, steady temperament of someone content with his life.
His innate kindness was palpable – people sensed that about him immediately.
He was known for his patience and never seemed to be in a hurry. For a man who was once the fastest sprinter in East Texas – and had the state track medals to prove it – he moved at his own pace regardless of the situation.
He had a deep and abiding love of nature and a genuine appreciation for the land. Read more
By Bob Vickrey
As my friend Jamie and I made our way through the front entrance of the fashionable bistro, the first wave of deafening noise from inside almost knocked us backwards toward the Wilshire Boulevard curb.
I'm quite certain the initial blast had registered a significant reading on the Richter scale. Former Cal Tech seismologist Lucy Jones would surely have a full report on the eleven o'clock news later that evening.
We speculated the trendy cafe in Santa Monica had become the first dining spot in America to have officially broken the sound barrier. And surely history would reflect that the owners of the restaurant had successfully matched legendary test pilot Chuck Yeager's achievement decades earlier—but had done so without ever leaving the ground. Read more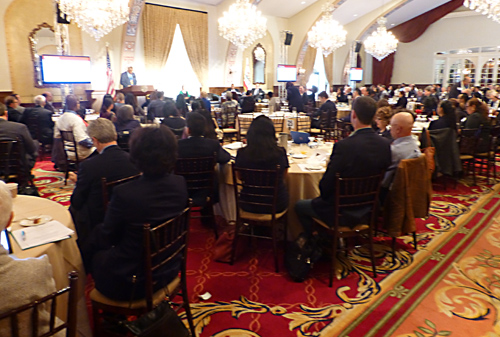 Leslie Evans
Several hundred people gathered at USC's Town and Gown building April 17 for a summit conference on homelessness. They heard more than twenty speakers in four panels from Los Angeles city and county government and a wide range of leaders of homeless agencies and programs, as well as university faculty members. The presentations ranged from academic studies to workers in the trenches who deal with the homeless and their problems on a daily basis. Following are highlights of the conference.
The summit opened with County Supervisor for the Second District, Mark Ridley-Thomas. He said his agency has seen homelessness as its top priority for several years, and that the county has set aside $100 million in new one-time funding over the next two years. "But one-time funding won't do it. We have to find a regular annual funding stream if we are to succeed."
USC President Max Nikias. "There is a moral imperative to help those in our community who are struggling just to survive." The homeless, he added, are not of one type. They include the elderly, the disabled, veterans, mentally ill, youth emerging from foster care, the poor who have lost their jobs, the formerly incarcerated, and young families who have lost their homes. "Homelessness," he insisted, "is the defining issue in the county of Los Angeles. Instead of averting our eyes from the crisis we must see it. If we don't act now the problem will worsen. We will have more to contend with than we can possibly handle." Read more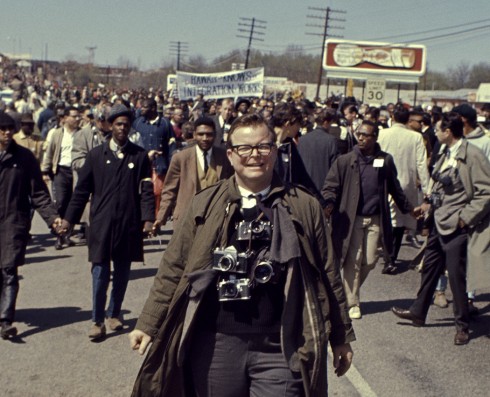 Bob Adelman, with marchers in Lowndes County on March 24, 1965 during the Selma-to-Mongomery march. ©Bob Adelman
By MARY REINHOLZ
The first news stories out of South Florida were sketchy. They raised troubling questions about the passing of renowned photographer Bob Adelman, a friend of this reporter for many years who was found dead March 19 at his home in Miami Beach. He was 85 and had been living alone for a month since the departure of a long time live-in girlfriend, a source said.
Adelman, a twice divorced native New Yorker, was best known for his pictures of the early civil rights movement, especially an iconic photograph he took of the Rev. Martin Luther King, Jr. delivering his 1963 "I have a dream speech" at the Lincoln Memorial in Washington, D.C. He went on to chronicle a wide swath of American society over the next six decades, ranging from the world of high concept pop artists like Andy Warhol and Roy Lichtenstein to the seamy underground scene of hustlers and sex clubs in Manhattan.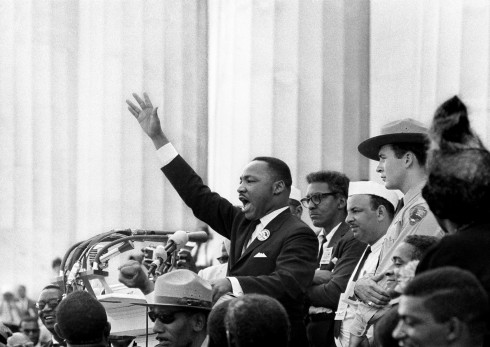 Dr. Martin Luther King, Jr. delivering his "I have a Dream" speech in 1963 at the Lincoln Memorial in Washington, D.C. ©Bob Adelman
According to early reports from the Miami Herald, police cordoned off his art deco house with yellow crime scene tape and began interviewing neighbors after he was discovered unresponsive by a friend at 3 pm in the afternoon. He had a head wound, which fueled speculation of foul play. Other reports stated he had died of natural causes. Read more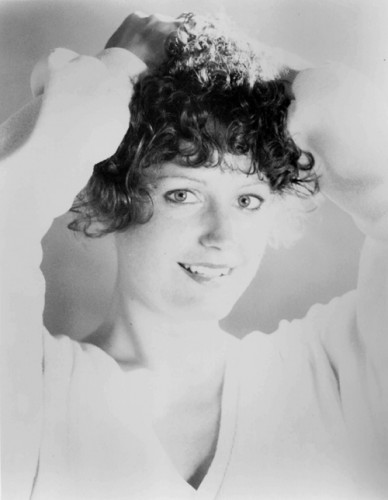 IOWA INNOCENSE
THEATER IN THE RAW
By VICTORIA BERDING
Chapter 1
Uh-h-h-h, Where's my robe? And my slippers?… as I stumble out of bed and down the hall to the kitchen to teaspoon out the last of the coffee grounds for maybe two mugs of espresso. I've woken up to the cry of hungry wild birds outside my bedroom window, along with Pauli, one lovable stubborn goat, loudly head banging on the back door for his crackers. I open the front door to warm sunshine and there's Charli, my very own field cat usually not here until dusk, pushed up against the screen door meowing for crunchies. "O.K. guys, I'm heading down to the mail box." and get followed by a gang of hummingbirds buzzing for nectar usually dangling from the eaves. Pinkles, our cocker spaniel, is dancing at my heels for jerky as I sort though the mail for my check but it's not here. God, it's not here and I'm wondering how the hell we're going to make it through another day of automatic debits for the lights and gas with literally only one nickel left in my wallet. I've been able to ration one lone roll of toilet paper and enough food to last through this morning; we've got meat in the freezer but are running out of everything else. Oh the angst…..I have a knot in my stomach so big I'm sure I'm going to be constipated for a week and now just hearing on the radio that only 62 individuals hold the wealth of half this world's population, I can no longer hold back a flood of pensive tears. Without the money you need, when you need it, you're frozen mute, deaf, paralyzed to wait and think about the lack of it or what's left to sell and what did I possibly do to deserve this?! Even if I do find a couple bucks, last night's trip to the hospital ate up all the extra gas in the car. My partner, sick and disabled but with a Michigan boy's will of steel, is finally resting comfortably in bed after yet another ordeal of waiting hours in ER only to be butchered, doped up and sent back home by Medicare's version of health care. Having lived most of my life as a musician, I know what it's like to live on the edge but this feels more like a slow tortuous death than simply running low on cash. Yeap, this is what it's like living check to check. And this is what it's like growing old, low income in America today. This is also November in southern California where frankly, since global warming, at least winter here in the high desert is the most beautifully tropical season I've experienced since arriving on Sunset Beach during the summer of 1978. But today, I'm slumped on my porch chair wondering how I got here?! Why do I feel like a victim with ever growing feelings of helplessness, anger and guilt, guilt about, "what if I'd only….. done this, did that, I'd have more money for…….." and man, that kind of thinking will drive you NUTS! But, here I go again, 'falling' into a wonderland of 'what ifs' and chasing that damn rabbit…… Read more