We are pleased to announce that Boryanabooks has brought back the expanded paperback edition of Lionel Rolfe's Literary LA,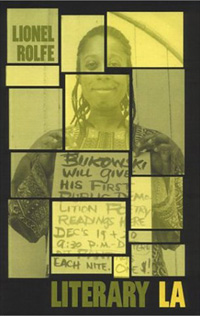 Los Angeles as a hotbed of writers, bohemians, mad poets, exiles and refugees from every form of political and emotional oppression surfaces again with the third edition of Literary LA. There has always been another side to the self-promotional glitter the city is best known for, and this book tells that story. Literary LA was originally published in 1981 by Chronicle Books in San Francisco. A revised edition, In Search of Literary LA, appeared ten years later. To mark the millennium, California Classics expanded the study, with new emphasis on the bohemian and apocalyptic streams in Los Angeles writing, and including additional chapters by John Ahouse and Julia Stein. This is the full text of that expanded edition, released under the imprint of Boryanabooks. Those who helped to weave this literary tapestry were, like many who take hold in Los Angeles, often transients, literary gypsies, bohemians and writers in imposed or self-imposed exile. Among the authors and book people discussed, frequently through the haze of one of the city's coffeehouses, are Oscar Zeta Acosta, Charles Bukowski, Henry Miller, Ken Kesey, Carey McWilliams, Charles Lummis, Jacob Zeitlin, Louis Adamic, Nathanael West, Robinson Jeffers, Malcolm Lowry, Thomas and Heinrich Mann, Upton Sinclair, John Steinbeck, Aldous Huxley, Jack London, Theodore Dreiser, and many others. Journalist and author Lionel Rolfe grew up in European-influenced surroundings in Los Angeles. Through the early postwar years, his mother, the late pianist Yaltah Menuhin, hosted an at-home salon that offered a solace for musicians and other creative artists-in-exile. Much of what Rolfe writes has its roots in his own childhood impressions or the recollections of family members and visitors to his boyhood home.
Leslie Evans
The dominant American liberal narrative about Iraq is that George Bush lied to drag America into a pointless war that destroyed a stable, secular, if dictatorial, country at the cost of the lives of 4,486 U.S. military personnel and at least 120,000 Iraqis, possibly many more, costing a trillion dollars, and leaving behind a chaotic ruin riven by bloody sectarian rivalries headed into civil war. Marxists would add that the war was a predatory attempt by American imperialism to create a client state and take control of Iraq's oil.
There is a certain amount of truth to these narratives but they are more about America than Iraq. Counting up the dead doesn't tell you what the Iraqis in their various ethnic and religious groupings were themselves fighting for, whether they believe they were better off under Saddam Hussein or not, and tends to treat them as undifferentiated and passive pawns or victims of the United States and its coalition partners. Just maybe most of them don't see it that way. Hate George Bush and Dick Cheney all you like. More power to you. The war was a disaster for America, and the Iraq that exists today is a far cry from the shining pro-West democracy that Bush and the neocons promised. But don't lie to yourselves about the people of Iraq, either out of ignorance or out of hatred for the Bush administration. In any case, maybe the fact that Barack Obama was the Commander in Chief of the U.S. forces in Iraq for more than a third of the time they were there may lead you to consider that the war, ill considered or not, was not simply an attack on Iraq's peoples. (Marxists excepted here.) Read more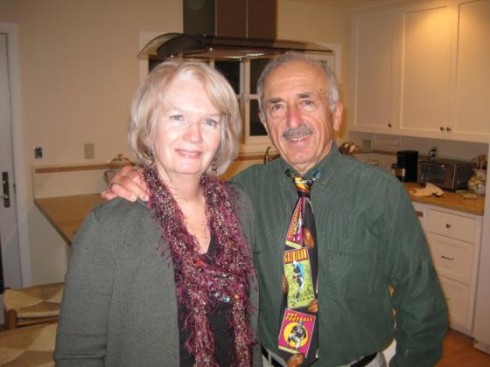 Longtime friends Carla and Don offer a unique theory about successful marriages
By Bob Vickrey
My friend Carla has a theory about long marriages. She claims that the relative success of a marriage is directly proportional to the square footage of the house in which the couple lives.
She maintains that her marriage to husband Don has lasted more than thirty years only because their house is big enough to accommodate separate spaces for portions of their days together. She tells him, "You stay on your side and I'll stay on mine, and I'll meet you in the kitchen for dinner at seven o'clock."
Those of us who have known this couple for many years know that Carla possesses a rather wry and deadpan sense of humor. On their 30th anniversary, Don proposed a dinner toast to her, and said, "It doesn't seem possible that thirty years could have passed so quickly." She responded dryly, "Well honey, it doesn't seem that long because you've been on the phone for most of that time." Read more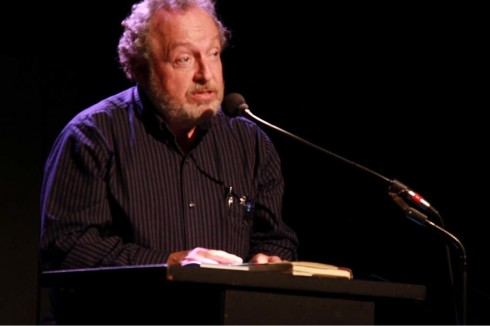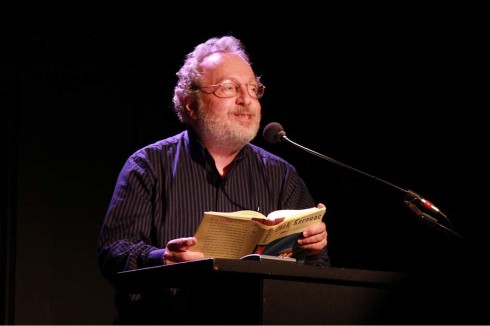 By LIONEL ROLFE
  Night Train To Shanghai And Other Memories Of China 
Gerald Nicosia
Grizzly Peak Press
Gerald Nicosia is probably better known for his non-fiction–Memory Babe is still the major work on Jack Kerouac and his Home To War is a major opus on the Vietnam War–but he also is a real poet, very much in the San Francisco tradition of Ferlinghetti, Patchen, Rexroth and Ginsberg–except those guys are now mostly gone.
I was amazed at how viscerally I reacted to the cover of Night Train to Shanghai And Other Memories of China, showing a train track running within inches of worker's hovels, in a place that looked like all the other dreary places on earth from Camden, New Jersey to Downey, California.
Of course looking to the east was the hallmark of the Beats in the '50s, who thought the wisdom from the other side of the globe much surpassed our own. For many of us children from that era, China was the land at the other end of the hole we sometimes tried to dig in our suburban front yards. Nicosia looks at China through those eyes he might have had climbing out the other end of the tunnel for the first time This slim book of poems is better than a thousand long-winded pieces of journalism–he makes the east scrutable and real, with all its anomalies. Read more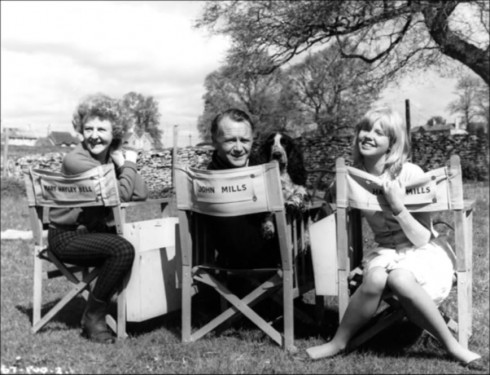 Sir John Mills, wife Mary, & daughter Hayley Mills
By Bob Vickrey
Ringo Starr was staring at me with a mischievous grin and I wasn't really sure why. We sat on couches facing one another in the Green Room of the Tonight Show as he waited for the call to make his onstage appearance.
I was there accompanying British actor Sir John Mills, and his wife Mary, who were in town promoting his recent memoir, "Up in the Clouds, Gentlemen Please." That evening's show had a distinctive international flavor that featured appearances by Starr, Mills, and Swedish-born actress Britt Ekland.
Visiting a television waiting room while accompanying a touring author wasn't entirely new to me, but this occasion was considerably more extravagant, and quite unlike most of my escort duties of the past. As a publisher's representative, part of my job was to shepherd our company's touring authors about town to bookstore signings and media appearances. I normally spent more time in green rooms of local morning or mid-day talk shows than national nighttime venues. Read more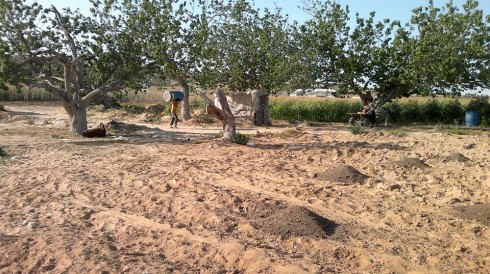 Photo by Mohammad Arafat
By Mohammad Arafat
Gaza is a place of many scenes that would create many postcards with vivid images. It also is a place of many tragedies, mixed with many happy and even magical moments as well. Our tragedies are Shakespearian in depth—yes, there is torture and killing and bombs and being besieged. But even all those things can't take the beauty from the place we live in.
Now when we're talking politics, that's almost always bad. But if I speak about the beauty of this place, that's another matter. I flipped through the many pictures in my mind—the sad, the happy, the good and the bad. Finally I settled on that picture of this place which shows that the atmosphere of this Holy City is based on a beautiful simple life. I want to share the fabulously sweet side of Gaza. Read more
 By LIONEL ROLFE
The other night on MSNBC Rachael Maddow talked about Col.William P. Gale, the man who created the Posse Comitatus, Christian Identity and Aryan Nation movements. She pointed out that the Nevada rancher who thinks he should not have to pay federal grazing fees was espousing a particular ideology which had been Gale's creation.
It turns out Maddow was talking about a rather arcane theory Gale proposed rejecting the legitimacy of the federal government because the 14th Amendment was passed in the Reconstruction period following the Civil War. The former Confederacy hated the 14th Amendment because it essentially was designed to protect the rights of the freed slaves. Gale's answer was to insist the only legitimate authority in each county was the sheriff.
Maddow's piece on Gale quickly reminded me of an encounter of another kind I had had with Gale. In 1969, New Orleans District Attorney James Garrison tried Clay Shaw for what he believed was his involvement in the conspiracy to kill President Kennedy. I had never believed the shots that killed Kennedy came from the Book Depository Building, not after hearing a reporter on the crime scene, an ABC radio broadcaster, proclaim the "shots are coming from the grassy knoll!" Read more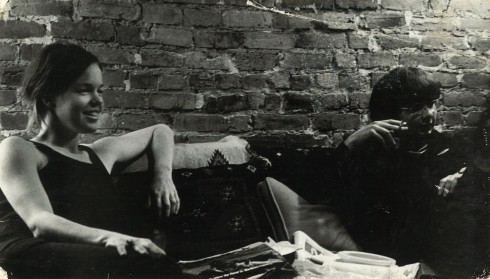 This is Mary (left) with a dark haired yippie friend in East Village, 1970, shortly after returning from a Black Panther convention in D.C.
Chapter 11
"You won the derby," Jason Slade said in an early morning telephone call to my room at the Chelsea Hotel. His tone was breezy as he explained that I had been picked out of a field of 10 competitors to write a column on women's liberation for the Daily Bugle's Sunday magazine. "We like your style," he added magnanimously, invoking the royal "we" as if more than one guy in a corporate cubicle had read my writing samples. "Now the fun begins."
I mumbled something inane. Other writers might have babbled joyously on learning from a top editor that they had been given a forum at a daily newspaper whose Sunday circulation was the largest in the U.S. But unbeknownst to Slade, I was also a fugitive, mainly worried about staying out of jail for offing a man in Arkansas. This column was a feather in the cap of a career girl, but it could bring me into fierce contact with the law. I felt tension gathering, like a metal band clamped around my forehead.
Just the other day, I had heard the crackle of a police radio outside my door. At first I expected the worst: NYPD boys in blue sent by the Feds to arrest a killer girl hiding in a world famous Bohemian haunt. Then I heard a woman sobbing, "It's my fault," and a man trying to comfort her. Read more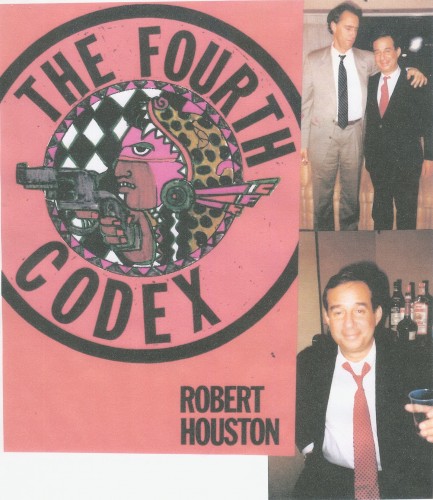 Book jacket of "Fourth Codex" with inset photos of imposter spy novelist and publishing exec victim
By Bob Vickrey
It was late on a Thursday afternoon when I looked around the large rectangular table in the Charles Hotel ballroom and noticed several of my co-workers' drowsily nodding off as our company's marketing director addressed plans for our lead book title that season.
The long week had begun to take its toll on those of us who had gathered for our publishing company's tri-annual sales conference which was being held in Cambridge, Massachusetts that year. Sales representatives had assembled there from across the country, along with our editors and publicity, marketing, and production members, who would attempt to gather and disseminate pertinent information for our forthcoming seasonal catalog.
After sitting at the same table for five straight days, fresh ideas seemed very much at a premium at this point in the week. The approximately sixty people on hand appeared as if they were present in body only—and whose minds had departed the building hours earlier. Read more
Leslie Evans
Three oil company drill sites in the West Adams section of South Los Angeles, operating more than 100 underground wells, have been the center of recent citizen protests, ramped up government inspections, a City Attorney lawsuit, and complaints that the city's Zoning Administration has violated municipal code and possibly state law in fast-tracking oil company expansion plans. These events have raised broader questions as to the competence of the city's oversight of an industry that deals in toxic, explosive, and flammable materials but has been allowed, from the days in the late nineteenth century when there were few zoning rules, to establish thousands of wells in residential neighborhoods throughout the city. Since the early 1960s most of these have been slant drilled underground, with scores of pipes emanating in all directions from anonymous compounds hidden behind high walls.
The recent West Adams complaints first arose in 2010-11 around Allenco Energy's drill site at 814 W. 23rd Street in the University Park neighborhood north of USC, adjacent to Mount St. Mary's College. Allenco purchased the operation in 2009 and boosted production 400%. Soon, neighbors began experiencing chronic nosebleeds, respiratory problems, headaches, and nausea. By late 2013 the South Coast Air Quality Management District (SCAQMD) had received 251 complaints. Community protest meetings drew several hundred people. The federal Environmental Protection Agency (EPA) sent inspectors, who were made ill and determined that leaks of petroleum fumes from badly maintained equipment were the cause. Allenco voluntarily shut down on November 22, under pressure from U.S. Senator Barbara Boxer. On January 7, Los Angeles City Attorney Mike Feuer filed a lawsuit to prevent Allenco from reopening until they comply with all applicable health and safety regulations.
Subsequently, two drill sites acquired last year by the giant Freeport-McMoRan Oil and Gas company became the subject of community complaints. Read more