Mary Reinholz
First published May 1, 2018, in The Villager, A Manhattan weekly.
[The writer says when she was a reporter in Los Angeles, Tom Brokaw — after helping her get a police report for a story she was doing for the L.A. Free Press — made a sudden unwanted sexual advance: He tried to put the moves on her, abruptly embracing and French kissing her, she said.]
A recent e-mail from the Newswomen's Club of New York reminded me that I had been confirmed to attend an April 5 panel discussion called "#MeToo for Journalists: Where have we come from and where are we going?" at The New York Times' skyscraper, that glassy and classy 52-story edifice at Eighth Ave. and 40th St. Read more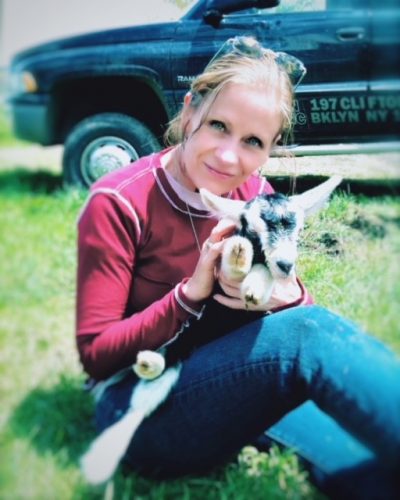 Vicki Whicker
May, 2011
After a sparse farm to table dinner, and after a mean (Jim=ruthless) game of BOGGLE, in the semi-dark of his "rustic" farmhouse (because, no electricity/no running water), right before I'm to trudge up the dark and dusty stairs for an unsteady sleep on an unstable old bed, Jim nonchalantly says, "I'm leaving at four a.m. for The City, can you feed Ichabod, tomorrow?"
Did he say leaving? At four a.m.? He's leaving? For The City? This house has no locks, is missing windows, and he's leaving at four a.m.? For NYC? That means I'm going to be asleep, no, scratch that, lying awake in the dark for at least two more hours before sunrise…ALONE. And then, if I'm not murdered, I have to go to that barn? For three feedings? Holy F! I can hardly say no, right? I can't be responsible for the death of a baby goat, can I?
"Sure, no problem." I hear myself saying. "But I'm staying at a BNB tomorrow night, so…I won't be around to take care of Ichabod after that…I'm catching my flight back to L.A." Read more
By BOB VICKREY
Los Angeles has to be the only city in the world where a 35 year-old restaurant could be described as a "landmark" institution.
I'm reminded of Steve Martin's character in the 1991 satirical comedy "L.A. Story," as he toured the city while hosting his British girlfriend. He described the sights they witnessed with wonder and awe, as he pointed out the city landscape to his friend, "Some of these buildings are more than 20 years-old!"
Our monthly lunch club decided to dig not-so-deeply into LA's culinary history for one of those "landmarks," as we chose The Ivy on Robertson Boulevard for our May dining destination. The Ivy opened in 1983, a year many L.A. residents consider to have occurred sometime during the Paleolithic Age. Read more
By Bob Vickrey
As I reported for my first day of work in October 1972, and entered the creaky Boston office headquarters of America's oldest publishing house, I thought perhaps that I had stepped back into the 19th Century.
Houghton Mifflin had indeed been linked to that century by publishing authors such as Emerson, Thoreau, Longfellow and Harriet Beecher Stowe.
One could witness the history preserved there by simply walking the hallways of this 100-year-old charming, but well-worn brick structure located on Park Street just down the block from the ornate Massachusetts State House. The front side faced Boston Common and the backside office windows looked out on the Boston Granary, which was home to considerable Colonial history, including the gravesites of Paul Revere, Samuel Adams and John Hancock. Read more
Vicki Whicker
Mother's Day, 2011
Before we open the front-door, Jim says,
"It's pretty bad inside— the squatters pulled the electrical panels out and, for some reason, they took the stairs, but it's nothing that can't be fixed."
My new/old house:
An 1820's Federal-style farmhouse cloaked in dirty-white siding, surrounded by hundreds of acres of farmland, situated on a two-lane "county highway" in the wilds of central New York.
Awhile back, a friend in L.A. bought a house (it was the 80's, when you could still afford to buy a house) and called it "my new/old house." It was probably built in the 60's but, you know, old for L.A. Read more
By BOB VICKREY
When it was suggested that our monthly lunch club try The Grill on the Alley in Beverly Hills, I had to admit that I had never heard of it.
But after learning The Grill was a favorite haunt for show business executives, I understood why I had completely missed this industry hideaway that some refer to as "The Commissary." Having called L.A. my home for almost 40 years now, I have been living with the shame and humiliation of never having once produced a major movie or successful television series. And what's worse, I never even tried.
In times past, Los Angeles was recognized for having such celebrated restaurants as The Brown Derby, Chasen's and Morton's. And these days, many fans of The Grill have compared it favorably to those classic bistros of bygone years. A few old-timers have even compared it to the venerable Musso & Frank's Grill in Hollywood, (which officially turns 100 next year). Read more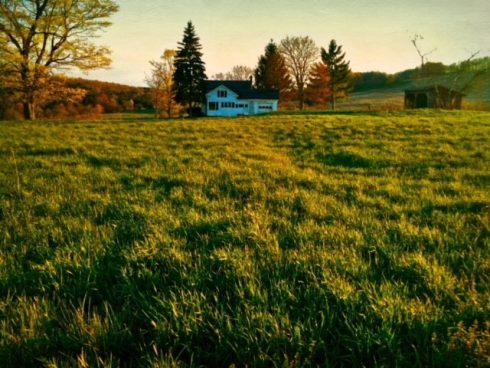 Vicki Whicker
Central New York, Mother's Day, 2011.
We're walking across the field from Jim's farmhouse to my farmhouse. I've got butterflies. I'm about to ditch LA for this.
I'm about to pull a geographic— Palisades cottage to 1820s farmhouse. From the trendy West to the forgotten Northeast. From bone-dry to lush. Hip to hillbilly. Known to unknown. Read more
Baylis Glascock
Mrs. Brown was my seventh-grade teacher, a single mother of two, who dressed in the straight skirts of the day with matching jackets. It was 1953. She occasionally spoke of her late husband. He had died unexpectedly of a heart attack. She drove a '49 Ford, lived in Hannibal, and drove the ten miles to New London and back each day, bringing the two children with her. While having little occasion to discuss politics in the classroom, she did make known, more than once during the year, her profound dislike of Harry S. Truman for having fired General MacArthur, whom she regarded as a true American hero and patriot. I had no opinion about MacArthur, but my father, having taken the train to Washington, D.C., for Truman's inauguration, and having had seating within about 75 feet of the ceremony, quite a bit closer than county assessor Jack Briscoe, who perceived himself to be well connected in Democratic political circles, made Dad speak of Truman with great respect. Also, Truman, like George Washington, was a Mason: Dad was a 32nd degree Mason and Grand Master of the local Masonic Lodge. So, I did have a generally positive feeling about the 33rd president, but I never made a point of making my preferences in the matter known. Read more
Anna C. Broome
The self as creator and man as painter is vigorously defined in the art of Ricardo Garcia. He is well developed as an artist in many forms and always extends the best of his creative self to the world. The evolution of the paintings rests on the process Garcia exposes through sequences of line and shape: mutually feminine and masculine; bold and tenacious; tender and fierce. "My art is a fusion of my life, environment, experience. When they ask me what kind of style I paint I tell them it's a style that I cannot label."
The ideas he explores come from within as he initiates dialog with himself and the work. "Silence inspires me. I often have conversations with myself as a means of study of who I am as a man and a painter. I want to inspire the world to come to a place of harmony, and I think my art is a way of encouraging people to extend the best of who they are through the exposure of complex image and theme." Read more
By Bob Vickrey
During our ongoing three-year tour of famous Los Angeles restaurants, our monthly lunch club has often encountered difficulty escaping Frank Sinatra and his Rat Pack's shadow wherever we decide to dine.
It seems these guys had the same taste in restaurants as our roving foursome. This time it was Matteo's on Westwood Boulevard, where we were once again forced to deal with their legacy.
Owner and founder Matty "Matteo" Jordan opened his restaurant in 1963, with the help of his childhood friend Sinatra, and fellow Hoboken, New Jersey native. That collaboration made Matteo's an instant LA hot spot, which featured a great mix of fine Italian food, tuxedoed waiters and a friendly, upscale supper club atmosphere. Read more