Stanley Bard, long time proprietor of the Bohemian Chelsea Hotel and a "Robin Hood" of innkeepers, dies at 82 in Florida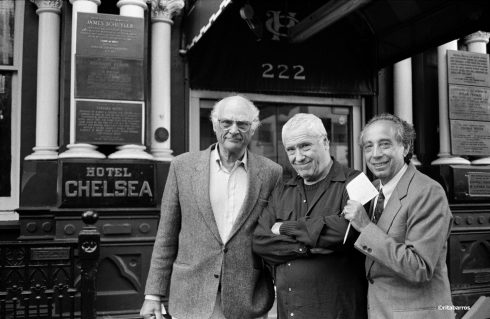 Arthur Miller at left, Arnold Weinstein center, and Stanley Bard at right
in photo by Rita Barros.
By Mary Reinholz
The old red brick building on the west side of downtown Manhattan was once home to luminaries like Dylan Thomas, Arthur Miller, Joni Mitchell and any number of wannabes and miscreants who needed an affordable place to crash. This one time crucible of creativity is nearly empty now, a ghostly construction site as renovations at the world famous Chelsea Hotel drag on.
All the paintings and sculpture that once hung on the lobby walls or dangled from the ceiling, many donated by grateful residents in lieu of back rent, were put in storage years ago or reportedly sold after Stanley Bard, the Chelsea's late long time proprietor, was ousted in 2007 from his position as manager and majority owner by the hotel's board of directors. I knew Bard back in the day and believe that coup broke his heart.
The son of Jewish immigrants from Hungary who grew up in the Bronx, Bard ran the Chelsea for about 50 years, acting as a "Robin Hood of innkeepers," sometimes lending tenants money, overlooking their overdue bills and encouraging their artistic ambitions, said an obituary in The New York Times. "When Timur Cimkentli, a photographer, owed back rent, Mr. Bard hired him as a bellman," noted the paper on Bard's passing last month.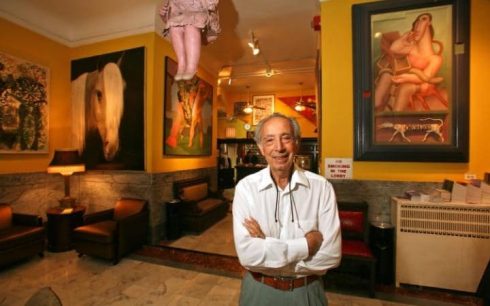 Stanley Bard in the lobby of the Chelsea Hotel in 2006 Credit: Allan Tannenbaum/Polaris / eyevine
Although he earned a degree in accounting from New York University, Bard clearly wasn't consumed with worry about the bottom line. He began working at The Chelsea as a plumber's assistant a decade after his father became a stakeholder in the hotel in 1947, became manager 10 years later upon his father's death and died in Boca Ratan, Florida on Valentine's Day, Feb. 14. He was 82 and had suffered a massive stroke, according to Ed Hamilton, author of "Legends of the Chelsea Hotel: Living With Artists and Outlaws in New York's Rebel Mecca" (2007).
Hamilton is one the remaining residents at the hotel. He writes a blog about the Chelsea from the SRO he shares with his wife.
Approximately 50 rent stabilized tenants also live in the 12-story Victorian gothic edifice with wrought iron balconies that was built sometime between 1883 and 1885 on 222 W. 23rd Street. It was here where Arthur Miller repaired to write "After The Fall," the play about the 1961 breakup of his marriage to Marilyn Monroe. He stayed for six years and described the Chelsea in a memoir as a spot where "you could get high from the marijuana smoke in the elevators."
"This hotel does not belong to America," he wrote. "There are no vacuum cleaners, no rules and (no) shame." Elsewhere, according to The Guardian, he paid tribute to the two prevailing atmospheres he experienced: "A scary and optimistic chaos which predicted the hip future and at the same time the feel of a massive, old-fashioned, sheltering family."
Other notable residents included William Burroughs who wrote "Naked Lunch" at The Chelsea and Bob Dylan who penned "Sad-Eyed Lady of the Lowlands."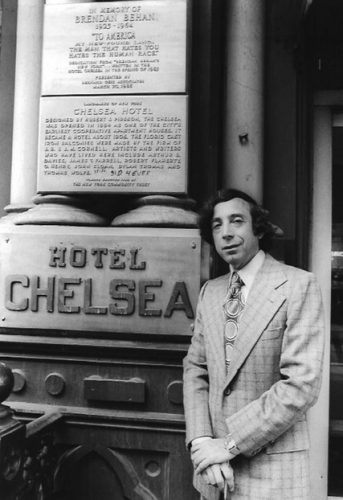 Stanley Bard at Chelsea Hotel 1970
Full disclosure: This lowly writer from Los Angeles pecked out an overwrought short story on my portable typewriter that was published in the prestigious Evergreen Review while I was holed up at the Chelsea in the early 1970s as a newcomer to the city. While living at the hotel, I also won a writing competition to become a columnist for the New York Daily News; tangled with beat poet Gregory Corso, a hero of my youth; and worked for renowned independent filmmaker Shirley Clarke who resided in a triplex in a roof garden atop the Chelsea.
As for Bard, he gave me a break on rent for my cramped high-ceilinged space when my finances went south for a time and later signed a lease for an apartment owned by the Chelsea and connected to it underground tunnel. I hadn't seen him for nearly 40 years years when he died but wept at the news of his passing even though I remember the hotel mainly as a glorified flophouse with addicts on my floor. (One died of an overdose while his girlfriend wailed in the shadowy corridor outside his room and police radios crackled.)
Hamilton, an obvious fan of his dwelling place, described Bard in his obit as "the guiding spirit of the greatest experiment in bohemian living in the history of New York, if not the world…"
There was no makeshift shrine outside The Chelsea to memorialize Bard like the one that appeared for singer/song writer Leonard Cohen, a former resident, who died late last year at the same age of 82. But there were wilting poppies in a vase on top of the lobby fireplace and two pictures of Bard, along with notes citing the dates of birth (June 16, 1934) and death "in loving memory" when I stopped by hoping to interview Hamilton and the leader of the hotel's tenant association. Both did not return calls.
"It's sad," said an actress of a certain age, who has lived at the Chelsea with her husband since the early 1960s, as she passed by the reception area, staffed by a uniformed female employee of a security firm. "He had been ill for several years." The actress declined to give her name but acknowledged that Bard had helped many "people he liked" at the hotel.
His corporate successors are clearly more interested in profits and sprucing up the hotel than Bard ever was. Joseph Chetrit of the Chetrit Group purchased the Chelsea for about $80 million in 2011 and shut it down for new guests to begin repairs. His renovations spurred a lawsuit from tenants in rent stabilized apartment who claimed the dust and debris created health hazards.
The suit was settled in 2014 by Ed Scheetz, ceo of King & Grove boutique hotels who bought out Chetrit, a former partner, and an associate for an undisclosed sum. Scheetz, however, apparently exited the scene last year. Robert Born of BD Hotels is now running the show, according online reports last year in The Real Deal.
One thing is clear in all these comings and goings. The Chelsea Hotel without Stanley Bard will never be the same again. And people like me who lived there during his heyday will never forget him or the people they met at his funky establishment. Before and after my 9 month stay, I interviewed celebrity guests like Jane Fonda, Yippie leader Abbie Hoffman and Maurice Girodias, legendary publisher of The Olympia Press, best known for putting in print such banned masterpieces as Vladimir Nabokov's "Lolita" and Henry Miller's "Tropic of Cancer."
Girodias also published "The SCUM Manifesto," the notorious anti-male screed written by actress and panhandler Valerie Solanes who shot and nearly killed Andy Warhol in 1968. Solanes used to hang around the Chelsea. "She looked rather sweet in her prison uniform," Girodias told me in wry tones from his room for a piece I wrote about Solanes for the Los Angeles Free Press. But he admitted that Solanes, now like him in the shade, scared him a bit before her assault on Warhol.
Before moving into the Chelsea, I profiled Viva, the Warhol superstar, for a New York Daily News feature. She went on to raise her two daughters at the hotel and "liberated" an adjacent room next to her apartment. Viva also resisted paying rent, reportedly telling Bard her space was a "hellhole" in one of their publicized disputes. Eventually he took her to housing court. Viva was forced out in 1993 after she failed to pay her $920 a month rent for two years.
Yes, there were limits to Bard's largesse. As Ed Hamilton and others have noted, Bard, a short statured energetic man who was always polite to me, well dressed and well spoken, appeared to be oblivious to some of the horrors at The Chelsea. He would never admit anything was wrong about his beloved bohemian haunt.
"Miss Reinholz, Miss Reinholz," he said in incredulous tones when I indignantly described the junkie blood and vomit left by addicts in the communal bathroom I shared on the fourth floor. "I don't know what you're talking about. We don't have those kinds of people here."
In 1978, several years after I had left the Chelsea, Quentin Crisp, the gay British writer and raconteur, told me his reason for staying at there even after a fire broke out in a nearby room. "I love squalor," Crisp said.
That same year, I also interviewed the great English/ American writer and dramatist Christoper Isherwood who lived in Santa Monica and checked into the Chelsea when he visited New York. During an interview for the arts section of Women's Wear Daily, I asked Isherwood to describe his reaction to the recent fatal stabbing at the hotel of Nancy Spungen by punk rocker Sid Vicious of the Sex Pistols.
"Oh, they only do that sort of thing on the other floors," Isherwood replied airly.
Word came back to me from two editors at WWD that Bard was furious by Isherwood's comment. He apparently regarded it as heresy and considered my piece an expression of ingratitude from a former tenant he had helped.
So sorry if you felt that way, dear Stanley. You made a difference in my life and so did your family-run hotel. Many thanks and RIP.
A version of this article should be published this month in The Villager, a downtown Manhattan weekly newspaper.
 #
Comments